how far is bwindi impenetrable forest national park-uganda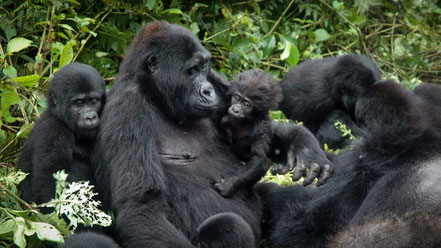 Bwindi Impenetrable Forest National Park is found in southwestern Uganda on the edge of the western arm of the Great East African Rift Valley, about 530km from Uganda. Bwindi can be accessed either by air from Entebbe Airport or Kajjansi Airstrip or by road from Kampala. check our most recommended  Bwindi gorilla trekking tour.
From Entebbe, there are scheduled flights to Kihihi which is close to the northern sector of Bwindi and also flights to Kisoro which is close to the Southern sector of Bwindi. Flights to Kisoro only leave in the morning while Kihihi has both morning and afternoon departures from Entebbe. You can also do charter flights from Kajjansi Airstrip to either Kisoro or Kihihi.
By road, there are alternatives that include;
Kampala-Kabale-Kanungu-Buhoma which follows a tarmac highway until Kabale for about 414km spending about 6-8 hrs and then connect on a murram road through Kanungu and Kanyantorogo for about 120km to Buhoma. For the latter route, it is highly recommended to have a 4WD vehicle and this journey can take about 4-5 hrs. 
Kampala-Kabale-Ruhija-Buhoma which follows the same route as the above first option except the Kabale-Ruhija-Buhoma section is about 95km on a murram road and can take about 3-4 hrs also highly recommended to have a 4WD vehicle.
Kampala-Kabale-Nkuringo also follows the same as the above routes to Kabale and an additional 105km about 4-5 hrs drive on a mountainous murram road to Nkuringo from Kabale. Some people prefer spending a night in Kisoro which is about 80km from Kabale and in the morning proceed to Nkuringo for gorilla tracking.
Kampala-Ntungamo-Rukungiri-Kihihi-Buhoma is regarded as the quickest and most direct of all the routes from Kampala and follows a tarmac rout to Rukungiri about 390km followed by murram roads to Buhoma for about 82km.
There is also a route that goes through Queen Elizabeth National Park via Kihihi and to Buhoma passing through the Ishasha sector of Queen Elizabeth National Park famed for the tree climbing lions. Sometimes this route is not favoured because of the bridge which keeps on breaking down.
What to do
The major activity in Bwindi is; Gorilla tracking limited to a maximum of 8 people per particular gorilla group per day – Permits must be booked before since they are on a very high demand all year round. You can do this by getting in touch with Uganda wildlife Authority or contacting your local Uganda safari Operator for advice.
Guided forest walks, birding and other primates viewing. There is also the interesting activity of the people (Batwa Pygmies) whereby recently the Batwa Cultural Experience was introduced.
When to visit
The rainy season is from March till May and October till November. Light rain season falls in November and December. Dry seasons are from December to February and June to August. The best time, the best months of the year would be December to late February and from June to September. check the best tours for June, July, August, and September.