This 2-day gorilla hiking tour in Rwanda is well-designed for tourists who are interested in viewing mountain gorillas in Volcanoes National Park, Rwanda.
Volcanoes National Park is perched in the north-western part of Rwanda.
Volocanoes National Park is among the wider Virunga conservation area that occupies the Congo's Virunga National Park and Mgahinga Gorilla National Park.
The Volcanoes National Park extends over an area of 160 kilometers square.
The Volcanoes National Park also borders the Mgahinga Gorilla National Park of Uganda and the Virunga National Park of the Democratic Republic of the Congo.
The Volcanoes National Park was among the largest National parks in Africa and extended its boundaries all the way to the DR Congo. When the Republic of the Congo got independence, Volcanoes National Park lost some of its areas to the Virunga National Park of the Congo.
Volcanoes National Park gained more recognition when Dian Fossey founded her research center there in 1967.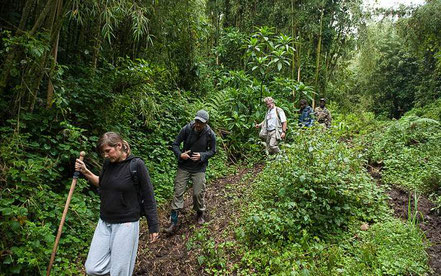 The 2-Day Gorilla Trekking Safari in Rwanda takes you to Volcanoes National Park for Gorilla Trekking Rwanda.
Enjoy the once-in-a-lifetime memory of gorilla trekking on a Rwanda safari at a discounted price with Cheap Rwanda Safaris.
The experiential activities encountered include gorilla trekking in Volcanoes National Park at a discounted price.
Don't miss mountain gorilla trekking in Rwanda on this last-minute summary holiday while on your Rwanda tour.
Book this special 2-day Rwanda gorilla trek tour, and the staff members are ready to serve you.
After breakfast on your first day of a 2-day gorilla hiking Rwanda Safari, meet the guide from Devine African Safaris.
Our driver will pick you up from either Kigali Airport or your hotel in Kigali, and your day starts with a complimentary tour of the city.
Named in 1907 by Dr. Richard Kandt, the first colonial resident governor of Rwanda, Kigali city is surrounded by lush green hills and is referred to as 'the land of a thousand hills'.
Visit interesting spots, which may include the craft market, the Gisozi genocide memorial site, and the Kigali museum.
Afterwards, depart for a 2-hour drive to Musanze, the second-largest town in Rwanda, with its stunning backdrop of five volcanic mountains, the Virungas.
Arrive at the Red Rocks Intercultural Exchange Center for lunch before joining the local brewers to understand the chemistry of the process of brewing a local beer from bananas.
If you find the activity interesting enough, you can join the women in squeezing the juice out of the bananas and drink a glass of juice (optional). Understand how long juice takes to turn into alcohol after adding sorghum flour.
Enjoy a big glass of our local beer if you feel like it! Among other activities, they also do basket weaving in this local community, an activity that supports local families financially.
Later, drive to your hotel for dinner and an overnight stay.
Travel time: 2 hours
Lodge: The garden place hotel
Meal plan: Lunch and Dinner
Wake up early in the morning and take your breakfast as you wait for our assigned driver guide to pick you up and take you to the Kinigi Park headquarters at Volcanoes National Park for a quick briefing on gorilla trekking rules and regulations.
Volcanoes National Park briefing happens at 7:00 a.m. daily and is designed to share travelers' requirements for mountain gorilla trekking.
Tourists are also given the opportunity to hire a porter if they are interested and choose a mountain gorilla family among the 10 habituated mountain gorilla families in Volcanoes National Park.
Once all that phase is over, mountain gorilla trekking begins in the allocated gorilla group alongside your experienced park ranger guides.
Depending on where your particular mountain gorilla group is located, gorilla trekking activities may last from 1 hour to 8 hours.
Once you have sighted the mountain gorilla family, you are allowed to be with them for an hour while taking photos and observing them from a distance of 7 meters.
Once your one hour of being with mountain gorillas is done, you will move back to the gorilla trekking starting point, where you will find our safari guide waiting to drive you back to the booked lodge for lunch and rest.
Later in the evening, our guide will transfer you back to Kigali, your hotel, or Kigali International Airport.
Travel time: 2 hours
Meal plan: Breakfast and Lunch
Ground transportation

Accommodation and meals as per itinerary

Gorilla permits

Lunch and Drinking Water.

Visit genocide memorials

Village walks

Professional English speaking guide
The late Dian Fossey was the great American primatologist who fled from Congo due to security reasons and established the gorilla research center situated between Mt. Karisimbi and Mt. Bisoke.
Dian Fossey dedicated her hard work to protecting mountain gorillas and other primates from poachers, but unfortunately, she was murdered in 1985 by poachers who were benefiting from poaching.
Besides mountain gorillas, tourists can also track golden monkeys and spot forest elephants, hyenas, forest buffaloes,and forest hogs.
The Volcanoes National Park protects five of the eight chained volcanoes that are situated in the Virunga ranges. Volcanoes in the National Park include Mount Karisimbi, Mount Sabinyo, Mount Muhabura, Mount Bisoke, and Mount Gahinga.
Hiking mountains is a popular activity after mountain gorilla trekking. Volcanoes National Park's most popular volcanoes among hikers are Mount Karisimbi and Mount Bisoke.
Golden monkey trekking in Volcanoes National Park is also famous among tourists interested in a complete primate trip in Rwanda. although Volcanoes National Park's key attraction remains mountain gorilla trekking.
Despite the higher price of a mountain gorilla trekking permit in Rwanda, many travelers choose Volcanoes National Park due to its location near Kigali.
Our 3-day Rwanda mountain gorilla safari package offers tours of Kigali city as well as visits to the genocide memorial sites.
Rwanda gorilla trekking safaris are so popular among many tourists that travelers need to book ahead in order to secure gorilla trekking permits in Rwanda.
Gorilla trekking tours to Rwanda offer travelers a chance to choose from one of the 10 habituated gorilla groups.