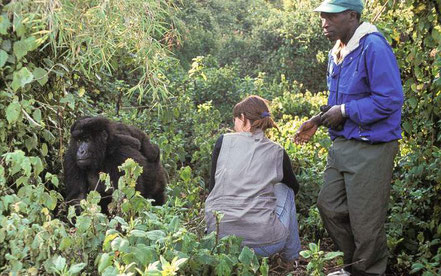 This 3-day Rwanda gorilla tour takes you to Volcanoes National Park. Volcanoes National Park is in the northwestern part of the country. Volcanoes National Park stands in an area of 62 square miles, has tropical rain forests, and is home to five of the eight volcanoes situated in the larger Virunga region.
Volcanoes in the National Park include Mount Sabinyo, Mount Karisimbi, Mount Bisoke, and Mount Gahinga. Volcanoes National Park borders Mgahinga Gorilla National Park in Uganda and Virunga National Park in the Congo.
Gorilla trekking 

Visit the Genocide Memorial center

Meet the friendly locals 

Visit the Twin Lakes of Burera and Ruhondo

Visit to the cultural center

Gorilla permits included!
The Volcanoes National Park is famous because of Dian Fossey, who was a great American primatologist. This park conserves the endangered Mountain Gorillas and golden monkeys.
The Volcanoes National Park was established in 1925 as a fragment of the wider Virunga Conservation Area with the aim of protecting the endangered mountain gorillas surviving within Mount Bisoke, Mount Mikeno, and Karisimbi.
The Volcanoes National Park became known around the globe due to Dian Fossey's research findings. Dian Fossey worked consistently to protect the endangered mountain gorillas in Volcanoes National Park.
Although she was killed in 1967, Fossey is remembered because she made ground-breaking discoveries in gorilla research. Besides mountain gorillas and golden monkeys, Volcanoes National Park also protects the black-fronted duiker, forest elephants, forest buffaloes, bushbucks, spotted hyenas, and over 178 bird species.
Transfer from Kigali to Musanze on you first day of 3 days gorilla trekking Rwanda Tour.
Our guide/ driver will pick you up from either Kigali Airport OR your hotel in Kigali and your day starts with a complimentary Kigali city tour. 
Named in 1907 by Dr. Richard Kandt, the first colonial resident governor of Rwanda, Kigali city is surrounded by lush green hills and is referred to as 'the land of a thousand hills'. 
Visit interesting spots which may include the craft market, Gisozi genocide memorial site and Kigali museum.
Afterwards depart for a 2 hour drive to Musanze, the second largest town in Rwanda, with its stunning backdrop of five volcanic mountains – The Virungas. 
Arrive at Red Rocks Intercultural Exchange Center for lunch before joining the local brew makers to understand the chemistry of the process of brewing a local beer from bananas. 
If you find the activity interesting enough you can join the women in squeezing the juice out of the bananas and drink a glass of juice (optional). 
Understand how long juice takes to turn into alcohol after adding in sorghum flour.
Enjoy a big glass of our local brew if you feel like it! Among other activities they also do basket weaving in this local community, an activity which supports local families financially. Later drive to your hotel for dinner and overnight.
Travel time: 2 hrs
Meal plan: Lunch & Dinner
Lodge: The Garden place Hotel
After an early morning breakfast on your second day of 3 days gorilla trekking Rwanda Tour, you will transfer to the park headquarters together with your packed lunch early enough to be briefed about the code of conduct while with the gorillas.
This will be followed by entering the forest in search of the gorillas in the forest which may take 2-6 hours depending on the movement of the gorillas in the jungle. Meet and stay with the gorillas for a maximum of one hour. 
Meal Plan: Breakfast, Lunch & Dinner
Lodge: The Garden Place Hotel
Today is your day for packing, have breakfast take a visit to the Twin Lakes of Burera and Ruhondo on your last day of 3 days gorilla trekking Rwanda Tour.
These Magnificent twin lakes of Burera and Ruhondo and its Swamp Rugezi are the excellent photogenic, serene and scenic places for Bird watching activity.
Later transfer to Kigali airport for your outbound flight. On your way and if the weather favors you will get some stopovers to admire the scenery and the beautiful terraced hills.
After the tour you will proceed to the airport for your flight to your next destination.
Travel Time: 2 hours 
Meal plan: Breakfast
Mountain Gorilla trekking is so rewarding, although the recent increase in gorilla trekking permits has kept some travelers away. A mountain gorilla trekking permit in Rwanda costs USD 1500.
Most of the money from gorilla permits goes to wildlife conservation and maintaining Volcanoes National Park. Apart from mountain gorilla trekking, tourists can also choose to trek golden monkeys, hike mountains like Bisoke, Karisimbi, and Sabinyo, visit the Dian Fossey tomb, tour the Iby'Iwacu cultural village, or visit the twin lakes of Ruhondo and Burera.
The 3-day gorilla trekking Rwanda Tour includes a Kigali city tour and visiting the Iby'iwacu Cultural Village, where travelers learn about the Rwandan culture and get an opportunity to be entertained by cultural dances, traditional songs, and folk stories.
Three-day Rwanda gorilla tours start and end in Kigali city with a visit to the Gisozi genocide site, where tourists learn about what led to the tragic Rwandan genocide of 1994.