Cost of 21 Days Uganda gorilla trekking total adventure safari
Magical gorilla trekking in Biwndi NP

Chimps trekking in Kibale Forest

Spot the Big 5 & Big cats

Unlimited game drives

Enjoy a boat cruise on Kazinga Channel

Explore Kidepo Valley NP

Explore Murchison Falls NP

Visit the Sipi Falls

Visit the Source of River Nile

Visit Jinja Town

Visit Semiliki National Park

Experience the Karamajong culture

Explore Lake Mburo NP

Travel with an expert guide rated excellent by past clients

Stay at comfortable facilities rated excellent by past clients

Pick up and drop off included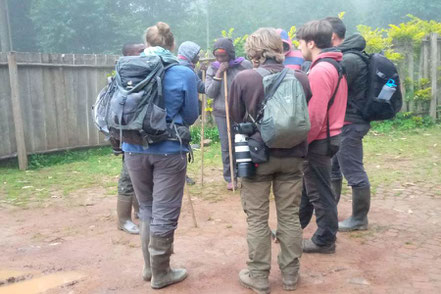 All inclusive 21 day Uganda tour and holiday to see primates, enjoy comprehensive game drives, deep and rich Karamojong tribes culture, Uganda scenery, with game viewing on the Savannah plains of Kidepo Valley NP, Queen Elizabeth National Park, Murchison Falls NP, Lake Mburo - giraffe, elephant, lion, buffalo, hippo, and leopard among others. Track the fast moving chimpanzees in Kibale National Park and the endangered Mountain Gorillas in Bwindi.
Travel from East to West and North to South and see the diversity of Uganda's flora and fauna. The mountains of Sipi Falls, One of the best parks in the world: Kidepo valley, meet the karamajong, explore the River Nile, the savannas of Queen Elizabeth, Semiliki National Park, Murchison Falls and the rain forests of Kibale and Bwindi.
Arrive in Uganda following the flight from your respective country of origin. You land at Entebbe International Airport which is the main gateway to Uganda where you will find a representative of your booked hotel and will offer you a courteous welcome.
The amazing weather and brightening atmosphere on the shores of Lake Victoria give you a remarkable first impression of Uganda. Connect to the respective hotel for  overnight stay.
Lodge: Karibu Guest House
After breakfast, an early morning drive on Jinja road with our first visit being at the historical Sezibwa Waterfall for 1 hour on 21 Days Uganda gorilla trekking total adventure safari.
The falls are about seven meters high and with the sweet hissing sound created by the falling water forms beautiful scenery. This is complemented by the natural vegetation cover and the undulating and steep rocks over which the waters fall. The site has several bird species which present a wonderful opportunity for bird watching. The site presents several tourist activities such as bird watching, camping, rock climbing, nature walks, hiking, canoeing.
We continue to the Mabira Forest for 2 hours where we have a forest walk. The Mabira Forest is a rainforest area covering about 300 square kilometres (120 sq mi) in Uganda, located in Buikwe District, between Lugazi and Jinja. Mabira forest is home to over 300 bird species, and many Ugandan primates.
We continue to Jinja, to view the source of the River Nile.
Lodge: The Haven Lodge
Meal plan: Breakfast, Lunch & Dinner
After breakfast you drive through the eastern part of Uganda takes you to beautiful Sipi Falls, on a plateau 1800m above sea level.
The Sipi River flows over the foothills of Mount Elgon, forming a spectacular series of waterfalls (some nearly 100m high), surrounded by village walking trails and lush green coffee-producing hills. You will stay in a wonderful lodge. From your lodge you have beautiful views over one of the waterfalls.
Lodge: Sipi River Lodge
Meal plan: Breakfast, Lunch & Dinner
Prepare yourself for a beautiful day in paradise. After breakfast, choose to go on a 3-hour or - for the real adventurers - a 7-hour hike through the region. A local guide accompanies you on your hike to explain flora, fauna and culture on 21 Days Uganda gorilla trekking total adventure safari.
Whichever option you choose, you can be certain that you pass many picturesque waterfalls, plantations and caves. Local villagers will be sure to greet you with 'Jambo!' and beaming smiles.
Accommodation at Sipi River Lodge (full board basis)
After and early breakfast you will continue your journey to Moroto town where you have an exclusive cultural interactive experience with the Karimajong tribesmen. Karamoja is an area in North-Eastern Uganda where the Karamajong people live. They are related to the Maasai in Kenya and live and dress similar. The main difference is that not any other tourist is going here. Only few years ago, tourism in Karamoja would not have been possible due to armed inter-tribal conflict but nowadays it's safe.
The Karamajong live in a Kraal, better known as Manyatta or Boma in Swahili. A Kraal is basically a village made out of huts surrounded by fences made of wood and thorns to keep the cattle in and to protect them against rivaling tribes and wild animals. Some of Kraals are permanent and others are temporarily as the karamajong follow the fresh grass to feed their cattle. The Karamajong are related to the Maasai in Kenya and live a similar lifestyle. The main difference is that the Karamajong is completely unknown and you are therefore sure to experience a very authentic and unique visit. In the afternoon you will visit one of the impressive Kraal or Manyatta of this community.
Tourist infrastructure does not exist in Kotido. Please be patient and do not expect the services from hotels and restaurants that you would expect in other parts of Uganda. You will spend the night at Lia Springs Hotel in Moroto with stunning views overlooking the hills.
Optional activity: Night in the kraal US$ 20 per person
For the true adventurer you can sleep in one of the non-permanent Kraals. Here you will pitch your tent to spend an evening with a specific Karamajong family. Part of the evening is a goat roast ceremony. It's a great event for them and they will be likely to sing and dance all night;
During a night at the kraal you will experience how the Karamajong lives. They will bring their cattle back in the kraal, they will make local beer (which you can try as well) and you can be part of the bloodletting ceremony, whereby they tap blood from a cow to drink. After the traditional goat-roast you will have some dinner for yourself. After dinner you will spend the rest of the night interacting and dancing with the Karamajong or listening to the songs next to the fire until it's time to go to sleep. After waking up in the early morning you can see the sunrise on the Karamajong Valley and see the Shepard's take their cattle from the kraal to look for fresh grass on the plains.
Meal plan: Breakfast, Lunch & Dinner
Lodge: Kara-Tunga's Karamoja Safari Camp
After breakfast leave Moroto to Kidepo Valley arrive in time for the afternoon or evening activities depending on the conditions of the roads This afternoon you can either take a game drive around the lodge area or refreshing dip in stunning swimming pool. Carved out of a granite kopje the pool affords fantastic views down the Narus valley and over a waterhole frequented by many animals including Bullbull- our friendly elephant and unofficial head gardener, Overnight.
If you can plan today on a Tuesday you'll have the chance to experience an authentic Karamajong cattle market on Wednesday (that is today in this tour). Some herders walk for 5 hours to be able to buy or sell their goats, cows or chicken here. It's a colorful and stunning sight and one of the few remaining authentic experiences. Don't miss this!
Meal plan: Breakfast, Lunch & Dinner
Lodge: Kidepo Savannah Lodge
After an early breakfast, go for a morning game drive to Kanangorok hot spring. A variety of animals can be seen roaming around including Ostrich. In the afternoon have a cultural experience that will bring into contact with Karamojong peoples at Karenna and Kapedo.
Meet the local elders and have an opportunity to interact with them. They will show you the kraals, the grinding stones and many more interesting items on 21 Days Uganda gorilla trekking total adventure safari.
Meal plan: Breakfast, Lunch & Dinner
Lodge: Kidepo Savannah Lodge
Exit Kidepo Valley to Murchison Falls National Park. Early in the morning after breakfast, you will transfer to Murchison falls national park the northern sector with lunch along the way. 
The park is bisected by the Victoria Nile, which plunges 45m over the remnant rift valley wall, creating the dramatic Murchison Falls, the centerpiece of the park and the final event in an 80km stretch of rapids. The mighty cascade drains the last of the river's energy, transforming it into a broad, placid stream that flows quietly across the rift valley floor into Lake Albert. 
There are a lot of animals to see on your way to the hotel through the park such as elephants, giraffes and buffaloes; while hippos, Nile crocodiles and aquatic birds are permanent residents. We reach Fort Murchison just outside the park boundaries later in the afternoon. Here we will stay and with a cool drink and a fabulous view over the river Nile, the evening will come with all the noise of an African night.
Meal plan: Breakfast, Lunch & Dinner
Lodge: Fort Murchison
Murchison Falls National Park - Game drive and Launch cruise:
After a heavy breakfast on 21 Days Uganda gorilla trekking total adventure safari, you will embark on an early morning game drive where you are likely to spot animals like Lions, buffaloes, waterbuck, Jackson's hartebeest, Rothschild's giraffe, oribi among others.
Return for lunch which will be followed by a breathtaking launch cruise for a wide view of Hippos, crocodiles, buffaloes, several water birds such as the shoebill stork, the most sought after bird in Africa among others. Return to the lodge for dinner and overnight stay at your booked lodge.
Meal plan: Breakfast, Lunch & Dinner
Lodge: Fort Murchison
Drive to Semliki and head to Bundibugyo. enjoy this spectacular drive with views of Lake Albert and the legendary Mountain Rwenzori ranges. This park is situated in Bundibugyo district along the western border of Uganda with the Democratic Republic of Congo near Lake Albert.
The park has a great location within western Albertine Rift valley region and occupies the eastern section of Ituri forest connecting Uganda with Congo River separated by river Semliki. Semliki is a site for ornithologists with approximately 400 species of bird mainly forest birds. approximately 300 species of trees have been recorded here and more than 52 mammal species including 11 diurnal species.
In the night you will have a spot-lit game drive. the night, only one of this nature in the whole of Uganda and see the thin white tailed mongoose, very small night-jars plus several cats.
Meal plan: Breakfast, Lunch & Dinner
Lodge: RuwenZori View Guest House
Early set off for an exciting day in the Semiliki Valley National Park. Located in this National Park are the Ssempaya Hot Springs - ringed by the forest, palm trees and veiled in a cloud of steam.
These springs are almost primeval. The largest spring is a geyser shooting up from an 8m-wide opening in a low salt sculpture.
The emerging water has a temperature of more than 100ºC! Time permitting, your naturalist driver guide will drive you to the local Pygmy community and learn about the Pygmy traditionally nomadic lifestyle. Transfer back to the lodge arriving in time for dinner and overnight.
Meal plan: Breakfast, Lunch & Dinner
Lodge: RuwenZori View Guest House
Leave Semiliki National Park for Kibale Forest National Park via the Lake Albert escarpment, having a good view of the lake on 21 Days Uganda gorilla trekking total adventure safari.
Stopover at Kolping Hotel in Hoima for lunch and after drive across the interesting river Nkusi (flowing from the southern end of Lake Albert, through the villages of Kagadi, joining Victoria Nile). Both rivers join Lake Kyoga and flow through the Murchison Falls continue to Lake Albert and north to the Mediterranean Sea.
This is a great day as the drive takes you through the community and forests with chances of seeing vervet monkeys, black and white Colobus monkeys jumping up in the trees as you advance into the Kyenjonjo on a rocky road.
Meal plan: Breakfast, Lunch & Dinner
Lodge: Isunga Lodge
Assemble at Kanyankyu River camp at 08:00 hours to go for the most popular activity in this park which is chimpanzee tracking.
Chimpanzees are man's closest cousins though they are one of the most threatened primate species. More primates like black and white colobus monkeys, L'Hoest monkeys, grey-cheeked mangabey, red-tailed monkeys, bush babies, pottos and many bird species like the yellow spotted nicator, rumped tinker bird, little greenbul, green breasted pitta, the crowned eagle, black bee-eater and mammals like elephants can be seen in this walk.
Kibale National park, which averages about 3,300 feet in elevation, is an extension of the great rainforests of central Africa. It is inhabited by three large communities of chimps, each numbering more than 100 individuals. Each community has a complicated social structure. The big adult males dominate the group and defend the community territory against incursions by male outsiders; the females usually wander in small family groups.
Typically, we locate the chimps by listening for their pant-hooting calls, then hustle to the area from which they are calling. We get to observe them as they feed in fruiting trees, lounge, and socialise with each other, or even, occasionally hunt.
In the afternoon we visit a nearby forest swamp that is excellent for viewing primates and other forest animals. At the eastern edge of Kibale Forest is Bigodi Wetland Sanctuary which is maintained by the local community. You will expect birds like the great blue turaco, blue monkeys, baboons, otters, mongoose, bushbucks, bush pigs and among others.
Meal plan: Breakfast, Lunch & Dinner
Lodge: Isunga Lodge
Leave the national park after breakfast and drive to Fort Portal.
You will visit the Amabere caves in Nyakasura area. This is the traditional home of the Bachwezi who were believed to be demi-gods. This area still has historical regalia of the Bachwezi that helps one in understanding the life they lived while still on earth (they later disappeared). You will then take a nature walk to the crater lakes whose history is associated with the mysterious Bachwezi.
We incorporate some crater lake hikes into our this program. You will be simply by amazed by the beauty of these ancient and not ancient crater lakes found in the Fort Portal area.
After you have witnessed all these amazing landscapes, you will be transferred to Queen Elizabeth National Park on 21 Days Uganda gorilla trekking total adventure safari.
Meal plan: Breakfast, Lunch & Dinner
Lodge: Irungu Forest Lodge
After breakfast we depart to Queen Elizabeth National Park which is dominated on its northern border by the snow-capped 16,000-foot Rwenzori Mountains - the famed "Mountains of the Moon". This 767-square-mile conservation area is bordered on the north-east by Lake George and on the south-west by Lake Edward; its western border adjoins the Congo Parc du Virunga.
As we drive through the park, expect to spot teeming herds of impala-like Uganda kob, as well as topi, elephant, Cape buffalo. There are also several soda lakes filling ancient volcanic calderas where flamingos reside seasonally.
In the afternoon we will go for a boat trip along the Kazinga Channel. This gives you the opportunity to view wildlife up close: hippo's huff and spray at very close range from the boat, buffalo linger in the shallows. The shores of the channel are also home to an array of birds including pink backed pelicans, pied and malachite kingfishers, saddle billed stork and many others.
Meal plan: Breakfast, Lunch & Dinner
Lodge: Irungu Forest Lodge
Another early start for a bush walk through the Maramagambo Forest on 21 Days Uganda gorilla trekking total adventure safari.
This is one of the largest forests in Uganda, and forms a habitat for a number of primates and forest dwellers. Due to its location, Maramagambo also has a great diversity of butterflies and birds. The walk culminates in a visit to volcanic caves that are home to thousands of bats. Pythons are often observed in the crevices of the bats cave as they prey on bats. In this walk you will see the picturesque blue lake Kimeranjojo which got its name after swallowing an elephant. Other trails will lead you to the Crater Lake and habitats of the wild chimps and forest bird.
In the afternoon you will proceed to Ishasha Sector. Drive along the deep and wide dry craters that are occupied by savanna grasses and acacia. The drive takes you through the unique western rift valley escarpment and the (southern part of Queen Elizabeth National Park) Ishasha sector where you will take on yet another game drive in search of tree climbing lions in the afternoon and evening.
Meal plan: Breakfast, Lunch & Dinner
Lodge: Enjojo Lodge
Early morning guided bush walk for a closer interaction with nature in Ishasha. The mid morning will be spent on a game drive for the tree climbing lions, elephants and other Big Mammals, thereafter proceed to Bwindi Impenetrable National Park on 21 Days Uganda gorilla trekking total adventure safari.
The journey takes about 2-3 hours but driving through interesting features. We shall be arriving in Bwindi Impenetrable National Park in the evening. This park is home of the rare mountain gorillas plus 11 other primates species including the blue and red tailed monkeys. The forest itself is lush and green and there are streams running through it.
Meal plan: Breakfast, Lunch & Dinner
Lodge: Bwindi Forest Lodge
After breakfast, proceed for the morning briefing before enjoying the highlight of the trip - gorilla trekking, which may last the entire day on 21 Days Uganda gorilla trekking total adventure safari.
We trek through the rainforest and bamboo covered slopes, accompanied by a guide and trackers, in search of a mountain gorilla family. The walking can sometimes be tough and long, but when you catch a glimpse of the magnificent silverback, any discomforts will be quickly forgotten. When sighted, visitors will be guided to within 6 metres from the gorillas, sit around them for a whole hour while gazing into their big round eyes.
Gorilla trekking is unpredictable. It's difficult to foresee how many hours you will hike. The gorilla excursion can take from 2 up to 8 hours. Expect to walk along distance in steep and muddy conditions, sometimes with rain overhead, before you encounter any gorillas. A good physical condition is recommended. For conservation purposes, time spent with the gorillas is limited to one hour. A ranger will brief you on how to behave with the gorillas.

Meal plan: Breakfast, Lunch & Dinner
Lodge: Bwindi Forest Lodge
Transfer to Lake Bunyonyi for a 5 hour Edirisa Canoe Trekking. After having breakfast, we shall take a scenic drive to Lake Bunyonyi taking you through the beautiful terrain of the rolling hills with terraced landscape. A short drive leads us to the beautiful Lake Bunyonyi where we can relax and enjoy some reflection time. With its fresh water, bilharzias-free and beautiful landscapes, Lake Bunyonyi is a small paradise for travelers.
After meeting our local guide for the day, we are led out for a canoe trek as well as bird watching on the beautiful Lake Bunyonyi, traversing to the gorgeous Kyabahinga peninsula. Here you will be gladly welcomed with songs plus dances by the resident school children. 
At a trading centre above the school you will be invited to a cup of the local brew, obushera. It will be ... unforgettable.
You will ascend the Kyabahinga slopes having a wonderful opportunity to enjoy the birdlife and the verdant terrain. The view is very breathtaking! The guide will certainly brief you about the history of the area.
As we climb the slopes of Kyabahinga (ascent of about 30 minutes), you will encounter all kinds of plants and hear about key points of the area's amazing past and present.
At the top of the hill Omugurusi Jeremiah, a traditional healer, will be waiting for us. He is a well-known herbalist who will share with you some carefully chosen secrets of tropical highland flora.
We will then pay a visit to Ianick Mugasa, a son of the soil who returned from Europe to establish the Africa Explorer Cultural Village some 2,300 metres above sea level. Over a drink, Ianick can tell us many stories about the Bakiga, their traditional beliefs, Rastafarianism and much more.
Ianick's place will have presented us some spectacular vistas - but we will look for more. Kyabahinga is uniquely located to give us an outlook over most of Lake Bunyonyi, its 29 islands and the distant Muhavura volcano. You will get to know some of the colourful tales, legends and historical facts related to these islands.
Our final stop on the ridge will be the home of Mrs Anna, a leader of a craft group. She will show us how local crafts are hand produced, and give you a chance to make some for yourselves. And, no, this is not for ladies only! A descent down the hill and a short canoe ride will bring us back to our starting point  at 2 pm.
Meal plan: Breakfast, Lunch & Dinner
Lodge: Lake Bunyonyi Rock Resort
After an early morning breakfast, you will drive to Lake Mburo National Park.
Upon arrival, you will go for the game drive which will give you insights of animal species like the zebras, topes, elephants, elands, impalas, buffaloes, antelopes and so many others.
Meal plan: Breakfast, Lunch & Dinner
Lodge: Rwakobo Rock Resort
After breakfast, you will go for the last game drive within the park to search for the early risers and also look out for animals missed out in the previous game drive.
Later transfer back to Kampala with a brief stopover at the Equator for photographs; Reach Kampala in the afternoon. Proceed to Entebbe for your flight departure back home on 21 Days Uganda gorilla trekking total adventure safari.