Cost of 9 days Uganda gorilla trekking safari & primates
Magical gorilla trekking in Bwindi Forest

Chimps trekking in Kibale Forest

Spot the Big 5 & Big cats

Unlimited game drives

Enjoy a boat cruise on Kazinga Channel

Enjoy boat cruise on the Nile River

Visit Murchison Falls National Park

Visit Queen Elizabeth National Park

Spot Tree-climbing lions

Travel with an expert guide rated excellent by past clients

Stay at comfortable facilities rated excellent by past clients

Pick up and drop off included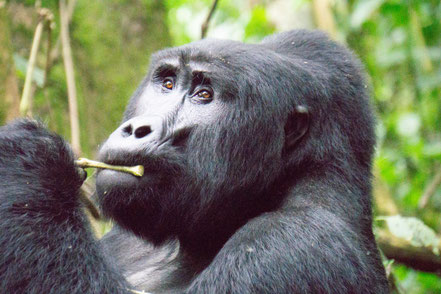 Meet eye to eye with the amazing gorillas in Bwindi National Park and chimpanzees in Kibale National Park of Uganda in their natural habitat, one of Africa's major highlights.
This close encounter with these amazing apes is simply breathtaking, also get a close encounter with other diverse African wildlife, beautiful landscapes and amazing culture and if you are a keen Birder, this is the place to be.
Experience the wonder of the World's renown Murchison Falls as it squeezes through the narrow gorge. You will also visit Queen Elizabeth National Park to spot the tree-climbing lions.
After your early morning breakfast drive northwest to Murchison Falls National Park via the Rhino Sanctuary where you will have an opportunity to trek Rhinos. There are 15 Rhinos which were reintroduced after their extinction in the 1970s through poaching.
A local ranger guide will lead you on foot to an up-close encounter with the rhinos and it may take about 1 and half hours. Proceed to Masindi Town for lunch and later continue to Murchison Falls National Park arriving at your lodge late afternoon on 9 days Uganda gorilla trekking safari & primates.
Meal plan: Lunch & Dinner
Lodge: Fort Murchison
Arise very early in the morning for your game drive on the northern bank of the River Nile in your open-roof vehicle which will give you an excellent opportunity to view and photograph the diverse wildlife. Your guide will help you spot elephant,lion, cape buffalo, Roth child's giraffe, hartebeest, waterbuck, oribi, bushbuck, bohor reed buck, hyena and if you are lucky, the leopard.
After lunch, go for a boat cruise upstream the calm Victoria Nile to the base of the falls stopping just few of meters from the 'Devil's Cauldron', marvel at the schools of hippos, crocodiles and over the 17km stretch you may see elephant, waterbuck and Uganda Kob on 9 days Uganda gorilla trekking safari & primates.
This is also the zone of many birds, species like goliath heron, Egyptian goose, pelicanbee-eater, kingfisher, hornbill, cormorant and the rare shoebill stork. After taking shorts of the photogenic Murchison Falls, you may choose to continue to the top of the falls, where you will have the amazing view of the falls!
Meal plan: Breakfast, Lunch & Dinner
Lodge: Fort Murchison
After your morning breakfast, begin your journey to Kibale Forest National Park. Drive south via Hoima to Fort Portal through verdant countryside passing through traditional homesteads, farms and Tea Estates.
You will have a stopover for lunch en-route. You will arrive at you lodge in the late afternoon. Check in at your lodge for dinner and an overnight stay.
Meal plan: Breakfast, Lunch & Dinner
Lodge: Isunga Lodge
This morning go in search of chimpanzee near Kanyanchu. Chimps live in communities of about 100 individuals; learn about the physical and behavioral aspects we share in common. Check out more primates such the golden monkey, olive baboons, red Colobus, white and black Colobus monkeys, grey checked mangabey and blue monkeys. 
Later explore the atmospheric village of Bigodi accompanied by one of our professional English-speaking field-guides.
The walk will take up to 3 to 4 hours depending on the pace of the group. According to your interests, you will first visit a traditional healer who will happily share his knowledge about spirits, herbs, plants and local medicines.
Secondly, the visitors will visit the homes of elderly men and women who tell interesting stories about birth, marriage, ceremonies, clans and their traditional life. Learn more about the history and issues that they face as a developing community of rural Uganda. Along the way, you will also be given the chance to experience the Ugandan school system, visit a local church and Bigodi's trading centre, a hub of rural life and activity. The field-guides are ready to answer any questions during the walk.
Meal plan: Breakfast, Lunch & Dinner
Lodge: Isunga Lodge
After breakfast at your lodge before you proceed to Queen Elizabeth National Park following the mystical Rwenzori Mountain Range. Your expert driver guide will take you through the game park where you might spot some animals.
Upon arriving at your lodge, you will enjoy a hot lunch and later in the afternoon take a unique 2-hour boat cruise on the Kazinga Channel into Lake Edward.
This trip passes through possibly the highest concentration of hippos and this launch/cruise offers an excellent platform for photography, bird watching and game viewing. The prolific bird life is colorful and tremendous, with well over 550 resident species on 9 days Uganda gorilla trekking safari & primates.
Meal plan: Breakfast, Lunch & Dinner
Lodge: Irungu Forest Lodge
After a cup of coffee, begin the day with a game drive in the Kasenyi plains that may lead you to see bush buck, Uganda Kob, topi, Defassa waterbuck, and Cape buffaloes, Lions, elephants and many more.
You will later return at the lodge for a late breakfast, relax as you wait for lunch. In the afternoon, you will enjoy an afternoon boat ride along the Kazinga Channel for a wide view of yawning hippos, crocodiles, buffaloes, various bird species such as red chest, papyrus Gonolek, pink backed pelicans, malachite kingfishers, yellow crown, water thick-knee, yellow-billed stork, shoe bill stock among others. Return at the lodge for dinner and overnight stay at your booked lodge.
Meal plan: Breakfast, Lunch & Dinner
Lodge: Irungu Forest Lodge
Have breakfast then set off for Bwindi NP through the Ishasha sector of Queen Elizabeth National Park – famously known for its resident tree-climbing lions. The chance of spotting these lions is about 70% though sometimes they are really hard to spot (most especially when they're down in the grassland looking for prey).
Hoping you get the chance to spot them, the sight will be spectacular! Continue to Bwindi National Park. Bwindi is a big habitat for mountain gorillas in Uganda; harboring an estimated 400 mountain gorillas – roughly half of the world's population, including several habituated groups, which can be tracked on 9 days Uganda gorilla trekking safari & primates.
Its mist-covered hillsides are blanketed by one of Uganda's oldest and most biologically diverse rainforests, which dates back over 25,000 years and contains almost 400 species of plants. With a strenuous day ahead, you will do less on arrival but just check in your accommodation, relax as you prepare for the Bwindi gorilla trekking experience the following day.
Meal plan: Breakfast, Lunch & Dinner
Lodge: Bwindi Forest Lodge
After an early breakfast depart to the starting point for briefing about your gorilla trekking adventure after which you will be led by experienced gorilla trackers on the slopes of the volcanoes. You will start from the site where the gorillas were
encountered the day before and from here the gorilla tracking begins. Although the hike can be physically demanding, the anticipation of the exciting experience ahead is amazing, and the beauty of the gorilla forest and its inhabitants are
fascinating. It is a humbling experience to stand just meters from man's distant cousins as they eat rest, play and bond with their young ones. Follow the mountain gorillas in the impenetrable forest, and discover their natural habitual and the many species they share it with. You are allowed an hour with the gorillas before sloping down back to your lodge.
Return to the lodge where you will enjoy dinner with your fellow travelers before getting a good night's rest for tomorrow's safari adventure.
Meal plan: Breakfast, Lunch & Dinner
Lodge: Bwindi Forest Lodge
After morning break fast, park your bags and you will be driven back to Entebbe for your flight back home with a stopover at the Equator where you will have an opportunity to stand in 2 hemispheres at the same time and take some photos, then another stops over at the Mpigi Royal Drum Makers where you will be able to watch the ceremonial drums being crafted using traditional methods passed down through the generations on 9 days Uganda gorilla trekking safari & primates.
Meal plan: Breakfast & Lunch