How Much Does It Cost To Go Gorilla Trekking In Uganda 2024?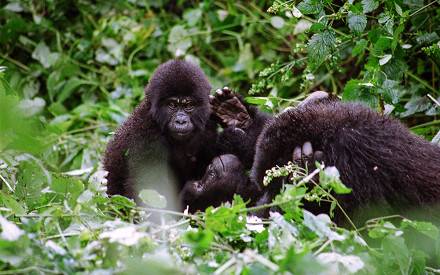 Gorilla trekking in Bwindi national park is obviously the main attraction for travelers, but the area is quite stunning. There is dense mountain, waterfalls, a little mountain town, upmarket hotels, and food points. Click here for gorilla and chimpanzee trekking tours 
You can also enjoy popular activities in the Uganda national park include hiking to a picturesque waterfall, visiting Batwa pygmy population and more. Yes, the most important is gorilla trekking is also one of the best activities in the national park.
For a gorilla safari or trekking, you need to purchase a gorilla trekking permit and book your accommodation and logistics to reach the trekking spots. 
The second very important aspect that you need to consider in your budget is transportation. To reach the Bwindi Impenetrable national park, you need to arrange to transport either a flight or by road. click here to view Bwindi gorilla trekking tour
The minimum days required to access Bwindi is three, where by on day one you need to reach Bwindi from Kampala and two days are for gorilla trekking.
Even though Uganda gorillas permit is cheaper, you would incur about $500-$600 as transportation charges. Plus, your flight charges also come under transportation. 
Book your accommodation in advance to stay at night or to rest after long day gorilla trekking. From low price to high range, Bwindi has all type of accommodation options for travelers.
You can also choose the camping option that may cost you less than other accommodations.
Depending upon your stay and budget make the bookings in advance to get rid of the last minute rush. 
Which is the Price of a gorilla permit in Uganda 2024
A gorilla permit is the only way that allows you to meet the world's amazing animals in Uganda. You can get a permit for one hour or four hours for gorilla trekking and gorilla habituation respectively in Uganda.
Currently, the cost of a Uganda gorilla trekking permit is USD 700 per person, and UWA serves permits on a first-come-first-serve basis.
When is the best time to see mountain gorillas in Uganda 2024
The dry months between December and February and from June to September are the best seasons for mountain gorilla trekking in Uganda and Rwanda. It is also the best time for wildlife viewing in various savannah national parks in Uganda.