how much is Chimpanzee habituation experience in kibale forest national park 2024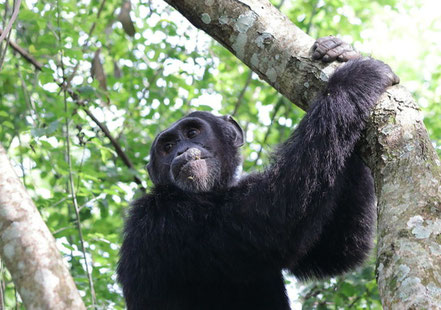 Chimpanzee habituation is the process of training chimpanzees on how to get used to human beings and preparing them to be tracked later on. Chimpanzee habituation takes about 3 years to be completed. Kibale Forest National Park is recorded to be home to over 1500 chimpanzees, out of the 5000 chimpanzees in Uganda. click here for chimpanzee habituation in Kibale Forest.
Kibale Forest National Park is located in Kabarole district and is the only place in Uganda where chimpanzee habituation takes place.
Chimpanzee habituation allows visitors to spend the whole day with these wild primates. In order for one to fully enjoy the habituation experience, permits should be booked 3 months prior to the actual tracking date. A Uganda Chimpanzee Habituation Trekking Permit costs $250 per person. View chimpanzee tour 
Chimpanzee habituation day starts with an early breakfast. Your lunch will be packaged, and you will head to meet your guide for the day, who will take you into the forest. This experience only allows a maximum of four people above 15 years old to participate, including researchers, so you are taken to see the place where the primates built their nest the previous night. If you wake up early and are lucky enough, you will surely find them just getting up. 
Ideal chimpanzee habituation starts at dawn, between 6:30 and 7:00 a.m. Other activities will take place in due course, such as feeding the adults, breastfeeding the young ones, hunting, resting, and in the evening, around 7 p.m., witnessing the building of the new nest where they will stay at night.
When is the best time for chimpanzee habituation experience in Uganda 2024
Chimpanzee habituation and chimpanzee trekking in Kibale Forest National Park take place throughout the year. However, the best time to trek chimpanzees happens in the rainy season, despite the mud, when there is plenty of food. During the dry season, these chimpanzees tend to move deeper into the tropical rain forests, searching for food. click here for gorilla trekking tours