how much does it cost to trACK chimpanzees in kyambura gorge 2024
Kyambura Gorge chimpanzee trekking rates 
$50  per person for foreign non residents
$40  per person for foreign residents 
30,000 UGX per person for East African citizens.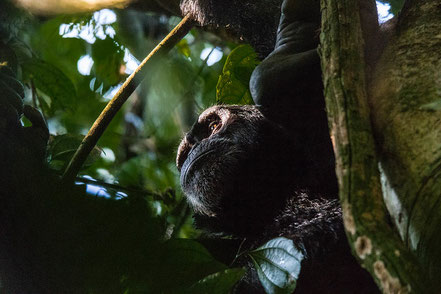 Kyambura gorge is a sink fault with an atmospheric rain forest situated in the corner of Eastern Queen Elizabeth National Park in southwestern Uganda. This gorge covers approximately 16 kilometers in length across the width, with its deepest point being 100 m. In the native language. click here to view mountain gorilla trekking safaris 
Kyambura means"' This gorge is also famously known as ''the valley of the apes''.Kyambura was created to act as a buffer zone.
Kyambura gorge's chimpanzee tracking is the main tourist activity that is worth exploring in this Savannah-covered gorge, giving you an opportunity to see ape families, though chimpanzees in this site are mobile in comparison with other national parks like Kibale Forest National Park. click here to check other chimpanzee tours 
Kyambura gorge is home to many apes and many other animals like bushbucks, African elephants, giant forest hogs, and stripped jackals, rewarding visitors with a thrilling chimpanzee experience. All the chimpanzees in this gorge were baptized with names reflecting Uganda's beauty. For example, Murungi means beauty; Pamba means cotton; Pesa means money.
Kazinga refers to the Kazinga channel; Asante means thank you; and Maji means water, among others. This was done by the Uganda Wildlife Authority in order to keep records and maintain them. It was done in July 2013.
One can pass via the southwestern part of Kampala, the Masaka-Mbarara high way, which is 420 kilometers long, and 410 kilometers long while using the Fort Portal-Kasese route. Some tourists may choose to travel by flight from Kajjansi airfield to Mweya.
The sights and sounds of birds will greet you as soon as your tracking begins.
The Kyambura gorge was formed as a result of a volcanic eruption, causing the middle part to sink where tropical rain forest grew later, so the fault line led to the great formation of the River Kyambura, which supplies water to animals within Kyambura. 
When is the best time to go trek chimpanzee in Kyambura Gorge In 2024
The dry months of December, January, February, and from June to September are the best months for Uganda safaris and tours at Kyambura Gorge. This is because many animal species converge by the gorge to take water, and many bird species come in plenty.