how much does it cost to stay at sanctuary gorilla forest camp-uganda
Valid from 1April-30th May,1Nov-20th December 2023
1-3 nights 
4-6 nights 
7+ Nights 
Valid from 3rd Jan to 31st March 2023,  1st June to 30th June 1 October, 21st Dec to 2 Jan 2024 
1-3 nights 
4-6 nights 
7+ Nights 
Valid from 1st July to 30th September 
1-3 nights 
4-6 nights 
7+ Nights  
Rates 
$540
$405
$351
Rates 
$800
$748
$704
Rates
$930
$837
$791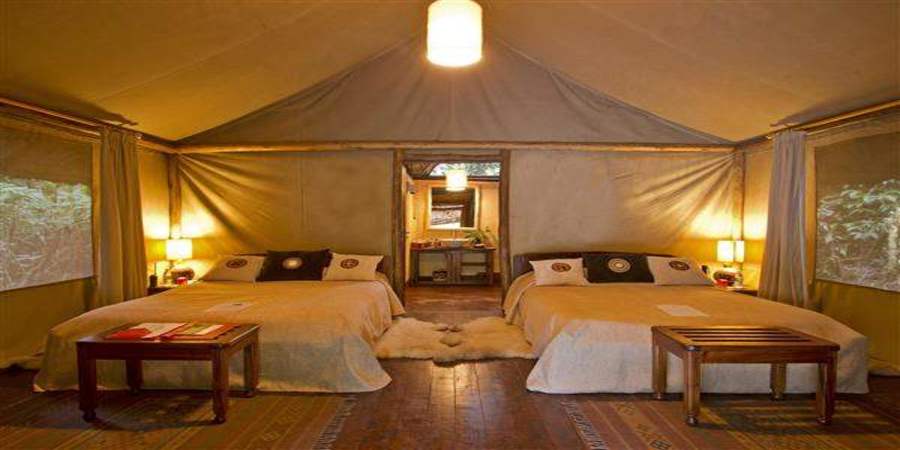 Sanctuary Gorilla Forest Camp is situated in Bwindi Impenetrable Forest National Park, and it is among the only two lodges that are located within the camp that are near the park's boundaries. It is sited on the top of a flat ridge in the Buhoma sector, mainly in the northern part of Bwindi. Sanctuary Gorilla Forest Camp is one of the best lodges for travelers to book while on their gorilla safari in Bwindi National Park.
Sanctuary Gorilla Forest Camp's location within Bwindi Impenetrable National Park is strategically located in nature, providing clients with greater opportunities to view wildlife clearly as well as the various colorful bird species while they sing sweet melodies, thus making travelers rest at the camp memorable.
Sanctuary Gorilla Forest Camp has certified tented accommodation with eight elegant private rooms and luxurious safari tents classically set on the forest's misty slopes and ready to be sold.
Sanctuary Gorilla Camp is furnished and decorated with mahogany floorboards and private porches, as well as local artifacts, to create a true African setting in the accommodations. Their tents have nice-looking queen-sized beds and large, deep, 24/7-running bathtubs that are perfectly positioned so clients can look toward the forest canopy.
Sanctuary Gorilla Forest Camp has electricity and water that make your stay at the camp extremely comfortable. The camp also has a campfire area on the lawn purposed for gorilla debriefing, and clients gather around the central campfire at night as they chat and enjoy conversations with other different clients.
Sanctuary Gorilla forest camp has experienced and skilled, qualified staff that provides quick service delivery as well as excellent services