how much does it cost to stay at papaya lake lodge-Uganda
Rates for non-residents start at $500 per person per night.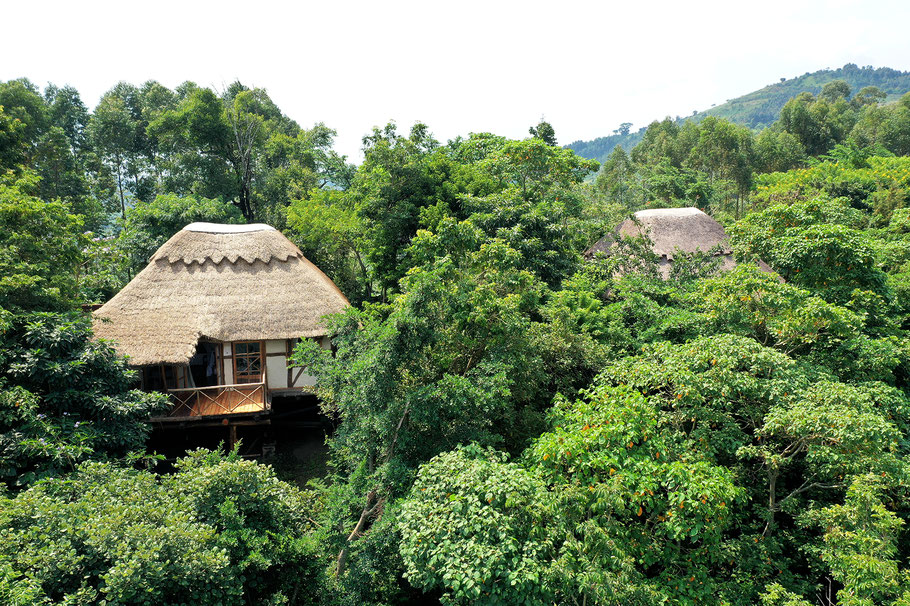 Papaya lake lodge takes approximately five hours to be reached by car from Entebbe International Airport or Kampala, Uganda's capital city. It is a comfortable ride westward on a tarmac road towards Fort Portal. Just before entering Fort Portal, you will take a left and follow a red dirt road that takes you directly to Papaya Lake Lodge along a scenic ride through tea, guava, banana, and avocado plantations.
Papaya Lake Lodge takes you to Kamwenge Road from Fort Portal town towards Kibale National Park, which is approximately 10 kilometers (6 miles). Follow your right at the junction marked by a cluster of road signs. Just continue until you reach the Rutete-Rwaihamba village. Move out of Rwaihamba by the same main road until you reach a T-junction with a primary school on the left-hand side. You will see a sign that directs you to turn right to reach Papaya Lake Lodge.
The evergreen landscapes of Uganda's Great Crater Lakes region surround Papaya Lake Lodge, which is nestled by the turquoise waters of Lake Lyantonde and Lake Kifuruka and against exhilarating views of the majestic Ruwenzori Ranges.
Papaya Lake Lodge has an oasis of nine luxurious cottages, both international and local restaurants, and a beautiful swimming pool with a scenic terrace. Papaya Lake Lodge was established with great passion and appreciation of Uganda's local culture, with details that make life worth living.
Papaya Lake Lodge was established by a white family who thought finding a new home in the heart of Africa would be good as well—a home that inspires and is well defined by its surroundings, offering the best of Uganda, beautifully refreshed with its own unique style, and providing high-standard services.
Papaya Lake Lodge's fine cuisine joins culinary traditions from all over the world that satisfy most travelers' demands for connoisseurship. Every dish on the menu is prepared using fresh, high-quality products.