how much does it cost to stay at bush lodge-Uganda
Room type
Banda single 
Banda double 
Extra bed
Tent single self content Tent double self-content 
Tent single nonselfcontent
Tent double nonselfcontent
B&B
$110
$140
$25
$55
$80
$35
$60
HB
$125
$170
$40
$70
$110
$50
$90
FB
$135
$190
$50
$80
$130
$60
$110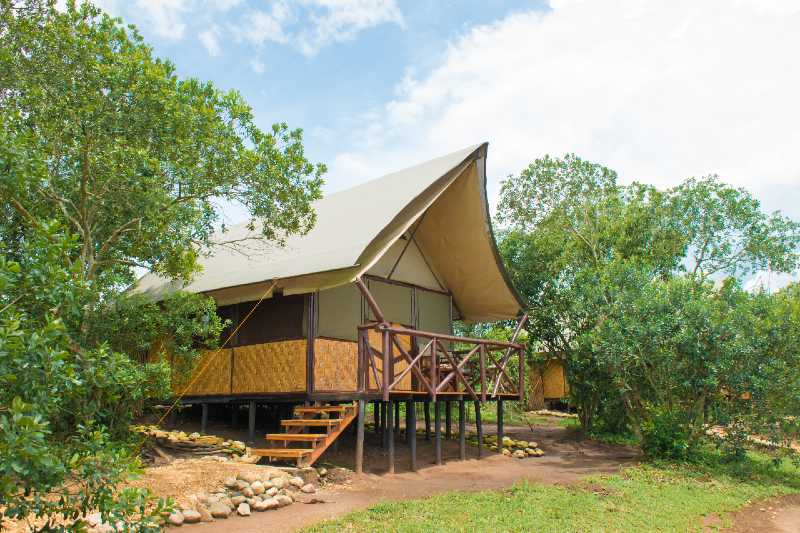 The Bush Lodge is located in Queen Elizabeth National Park in southwestern Uganda. The Bush Lodge was built with ecological principles in mind, and the bandas are spacious and well-designed to maximize privacy and enhance the experience of safaris at the lodge.
The bush lodge is surrounded by Queen Elizabeth National Park and borders the Kazinga Channel. Bush Lodge is set in a unique way, accompanied by plenty of animals such as hippos and hyenas, among others, roaming in and out of the camp.
The Bush Lodge offers a great price-quality ratio; their safari camp is affordable and authentic. Expect a fabulous outdoor safari environment that is closer to nature, with excellent food and friendly service providers.
The bush lodge has 12 self-contained bandas, large enough to be placed within the indigenous bush. The rooms are raised on a wooden platform that is beautifully made from a combination of canvas and local materials. 
The bush lodge provides huge mosquito-netted windows that allow a 180-degree view and bring guests closer to nature. All the rooms have a private terrace facing the seasonal Kamera River. All bandas have a bathroom with 24/7 running water, a flushing toilet, and an outside shower with hot water.
Enjoy your stay within this low-impact safari concept and have your dinner in a large tent at the restaurant. Because the tent is set overlooking the Kazinga Channel, you can also enjoy views of the Rwenzori mountain range while enjoying the bush lodge's excellent food.