HOW MUCH DOES IT COST TO STAY AT park view safari lodge-uganda
Room type 
Executive high-end cottage (HB)
Executive high-end cottage (FB)
Executive high-end cottage  (B&B)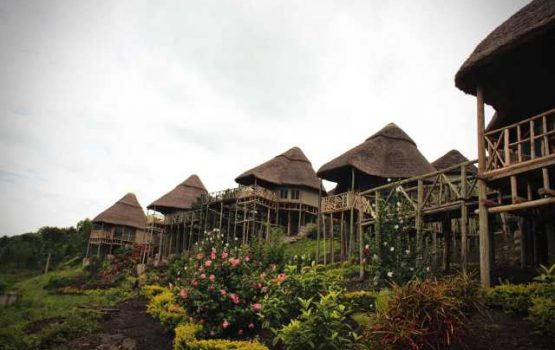 Park view safari lodge reputable accommodation located at Queen Elizabeth National Park, just close to the Queen Elizabeth National Park main gate and just a 10-minute drive away. Park View is an amazing area that overlooks Mother Nature's medley of flora and fauna, grassland, and woodland vegetation with animals such as Cape buffaloes, bushbucks, elephants, warthogs, antelopes, and hippopotamuses, among other wild animals.
Park View Safari Lodge is a luxury accommodation facility within the magnificent Queen Elizabeth National Park. Parkview cottages are spacious, with air conditioners, free Wi-Fi, and a panoramic view over the medley of nature. Parkview got its name "park view" because of the magical location at Queen Elizabeth National Park with unmatchable mixed views of the mountain Rwenzori ranges, the western rift valley, the lake gorge, Lake Edward, and the Kazinga Channel.
Park view safari Cottages are rustic, grass-thatched, spacious, and self-contained, with big bathtubs and running hot and cold water showers. Park view balconies are designed using African hardwood and have all the views of Queen Elizabeth National Park.
Park View Safari Lodge is situated within the biodiversity of mammals, birds, and a variety of reptiles at Queen Elizabeth National Park. Queen Elizabeth National Park, where travelers can enjoy activities such as viewing Kyambura Gorge chimpanzees, also features other animals such as black and white colobus monkeys, red-tailed colobus monkeys, olive baboons, blue monkeys, and vervet monkeys.
The Park View Safari Lodge adds a lot to your stay at Queen Elizabeth National Park. Laundry services are always available, there is a wild view of the savannah plains, a spacious restaurant that serves delicacies of both international and local cuisine to meet everyone's appetite, and the bar is well stocked to satisfy both local and international tastes in beverages, including alcoholic and non-alcoholic drinks, hot and cold drinks.