how much does it cost to stay at Rafiki lodge sipi falls 2024-uganda
Room type 
Single room (1 pax)
Banda's ( 2 pax)
Honeymoon suite (2 pax)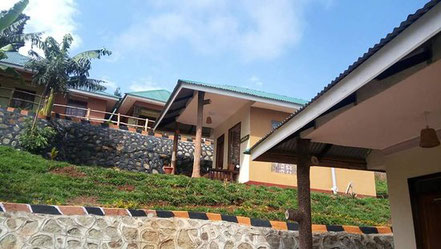 Rafiki  lodge Sipi is perched on the cliff, offering endless views of sipi falls, which accommodates an incredible number of bird species, best worlds Arabica coffee, and magical sunrise & sunsets. Hiking beautiful sipi falls is everyone's dream, cultural tour, Bird Watching, Abseiling, Sunset/Sunrise Walk, Cave Adventure, Coffee Tours should be on your travel list.
Rafiki Safari Lodge Sipi has family cottages, bandas, and basic rooms accommodation facility which suits every guest's budget, each individual room was designed with a thoughtful perspective view of the mighty Sipi Falls.
Rafiki safari lodge picturesque setting in that you will experience new intimate such as fireside dining, a comfortable reading lounge, an airy private veranda, and a full bar stocked with beers, wines, cold &hot drinks, and a fine selection of single malt whisky.