Which activities can i do in lake mburo national park in uganda 2024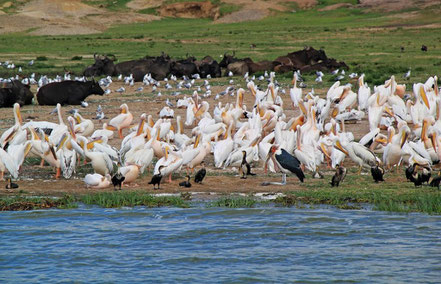 Lake Mburo national park is a diversified destination with different wildlife species such as zebras, birds, antelopes, bushbuck, warthogs, hippos, and waterbucks, among others. click here for mountain gorilla tours
Lake Mburo national park is open all year round, with several activities where visitors can participate, offering amazing experiences for a lifetime, such as guided nature walks, morning, afternoon, and night game drives, horse riding, and boat cruises on Lake Mburo.
Game Safari
More than 68 mammal species and approximately 350 species of birds call Lake Mburo home. Lake Mburo national park has a growing giraffe family and a healthy high concentration of hippos and other animal species such as zebras, elands, and Uganda kobs. Lake Mburo national park game drive viewing is always remarkable as you discover more animal species within the park.
Night game drive 
Lake Mburo national park is one of Uganda's safari destinations where travelers can do night game drives searching for nocturnal wildlife such as mongoose, porcupine, white-tailed, elusive leopard, and memorable sounds of other wild animals such as buffaloes, bush babies, hyenas, and zebras.
Horseback riding safaris
Lake Mburo national park is a horseback riding paradise and a gifted place among ten other national parks in Uganda where travelers can engage in horseback riding except elsewhere. checkout for wildlife tours
Horseback riding is a fabulous and distinctive tourist activity while viewing different wildlife species in this particular national park. Horseback riding at Lake Mburo national park takes about 1-3 hours. Lake Mburo other activities include a fishing trip on Lake Mburo, Bird watching, Lunch trip on Lake Mburo, Community walks, Biking Safari, and Rubanga forest walks
When is the best time to visit Lake Mburo National park in 2024
Uganda's longest dry season starts in June and continues through July and August. The shortest dry months in Uganda last for four months, namely December, January, February, and March. The above months are the best to visit Lake Mburo National Park because the driving tracks are dry.