take a trip to iby'iwacu cultural village 2024 -Rwanda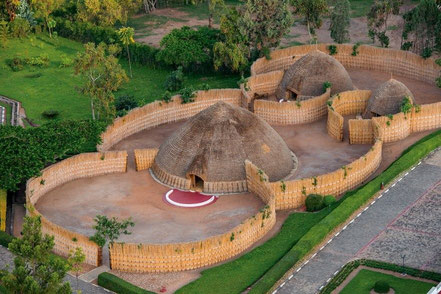 The Iby'iwacu cultural village, also known as the Gorilla Guardians Cultural Village, is one of the most significant recent additions to Rwanda's tourism menu. The Gorilla Guardians cultural village is situated in the Musanze District. The Kinyarwada word "Iby'iwacu" means "treasures of our home and heritage". Take a quick look at splendid 4-days Rwanda gorilla trekking Safari
The Gorilla Guardian village is among the most breathtaking places, loaded with beauty and many verdant hills that make Rwanda such a lovely country to visit. Despite Rwanda being smaller than its neighbors and having fewer natural resources, the government of Rwanda has managed to position its country as one of the top tourist destinations in Africa.
The Iby'iwacu cultural village is one of Rwanda's top tourist destinations. The Iby'iwacu Cultural Village brings together all of Rwanda's known cultural practices, inhabitants, and history in one location for exposition and up-close encounters.
International tourists can experience what it was like to live in a normal African village, including the way of life, the homes, the traditional dances, the dress code, the food, the herbs, and the basic structure of the old kingdoms. Visitors are given the chance to practice weaving mats and baskets and learn ancient hunting techniques.
The Iby'Iwacu cultural village is for tourists who want to experience Rwanda's native community's culture after visiting Rwanda's capital, Kigali, trekking mountain gorillas, golden monkey trekking, and hiking volcanoes like Mount Karisimbi and Mount Bisoke. They have fallen in love with this one-of-a-kind experience. While providing possibilities to buy local crafts, gifts, and souvenirs to show friends back home, it is also a terrific spot to unwind.
The Iby'iwacu Cultural Centre serves as a unifying factor for Rwanda's cultural and ethnic groups, such as the Tutsis, Hutus, and Batwa, in addition to the cash and attention it creates. The Iby'iwacu cultural village is an entertaining hub, promoting a sense of unity based on a similar shared mindset.
The Iby'Iwacu cultural village's local performers, such as the Batwa, were once poachers, but the Gorilla Guardians Cultural Village has offered them the chance to do something else that will support their families and discourage them from poaching.
What to expect at the Iby'iwacu cultural village in Rwanda 2024
The Iby'iwacu Cultural Center was established to provide a variety of engaging learning opportunities while allowing tourists to relax and experience the local way of life. At the main entrance, visitors are typically greeted by boisterous dancing and drumming, which merely serves as a preview of the many exciting events ahead. Let's take a closer look at some of the activities below.
Home visits and community walks: Participating in a home visit and a local community walk is a form of interacting, sharing, learning, and generally immersing oneself in the customs of many local communities. This is the best approach to comprehending the diversity within human cultures.
Visitors to the Gorilla Guardians Village have excellent opportunities to comprehend the distinctiveness of Kinyarwanda culture and tradition through home visits and community excursions. Center for Cultural Iby'iwacu You have the opportunity to converse with locals while seeing the Iby'iwacu cultural hamlet, where they reside in traditional settings and grass-thatched huts.
The Iby'Iwacu cultural village gives tourists an opportunity to sit down with elders as they share information and tales about Rwanda's rich history and traditions. Tourists are given a chance to see the local banana and vegetable plantations. Tourists also learn how to use a specialized milling stone to create fine millet flour or how to cook one of the local dishes.
The Iby'Iwacu community walk is a fantastic educational experience. A tour guide will take you to some of the nearby schools so you can engage with learners, and you will be taken through their local educational system. There are many local art galleries and stores selling handmade jewelry, woven clothing, exquisite pots, and other items that are fascinating pastimes during these neighborhood strolls.
The Iby'Iwacu cultural village allows travelers to watch, listen, and dance to Rwanda's traditional music, dance, and drama, which define true African traditions and culture and give a sense of belonging. For tourists interested in the local traditional music, the Iby'iwacu cultural center allows you to listen to many unique local Kinyarwanda musical sounds, such as the Ingoma, Inanga,Amakondera, Umuduri, Agakenke, Iningiri, and Ibyivugo.
Each of the sounds offers a unique experience, with a special musical dancing style and instruments. The Intore is one of them.
This popular Iby'Iwacu cultural village warrior dance is carried out by men wearing grass clothing and little bells wrapped around their legs while holding the spears in a mock battle or as a way of celebrating their victory over their enemies. The Iby'Iwacu young men and women are always smiling and showing happiness on their faces, eagerly ready to invite tourists to participate in their dance or at least teach them how to drum.
Visit the King's Palace: taking a short tour of the King's Palace is one of the remarkable things to do while visiting the Iby'iwacu cultural village. The King's Palace showcases how Rwanda's ancient kings managed their courts and ruled long ago. Ancient Rwanda's kings had total respect and were feared.
Rwanda's kings had the highest authority and would be the ones to make decisions that were implemented without any questions.
The king's palace served as the location for all kingdom events and rituals, which were observed by the monarch, clan chiefs, princesses, and princes, as well as other dignitaries. The King's Palace in Iby'iwacu provides a realistic representation of an ancient African kingdom setting, complete with all symbols of power and details on each clan. As you examine each symbol, a guide will assist in explaining it and providing all the information you need.
Meet the traditional healers: Traditional healers have always been important in the local communities, both historically and currently. Every time someone was ill, they went to them for advice. To help treat known ailments, these ancient healers used herbs, tree branches, roots, and bushes.
The healers have studied the use of these substances for many years and are skilled in their use, building on concepts and knowledge passed down over hundreds of generations.
The traditional healers take great pride in describing how the local medicine endured colonial times and has continued to have an impact on modern medicine. You will encounter some of the traditional healers at the Gorilla Guardians Cultural Village who will be keen to explain how the native remedies operate.
You are welcome to experiment with some of the local plants since they employ natural cures. You never know; you might find a cure for a condition you've been battling for years.
Visit the Batwa community: The Batwa pygmies used to inhabit the deep tropical rain forests of Rwanda and Uganda as fruit gatherers and forest hunters. Governments long ago forced them out of the forests and relocated them to new areas outside the forest. There are some of them working at the Iby'iwacu Cultural Center.
The Batwa Since then, Batwa has embraced life outside of the forest and the opportunities given by the tourism sector, which has significantly benefited the tourism industries in Uganda and Rwanda. The Batwa have acquired skills in ceramics, art and design, dancing, and theater after giving up poaching and living as hunters and gatherers in the jungle.
You will be astounded by the Iby'iwacu people's presentation of hunting techniques, including setting up animal traps and employing weapons like spears, bows, and arrows.
Taking local brew: drink local beer with friends served as a uniting activity within the African traditional social context, in addition to the joy and relaxation that alcohol consumption offers. This was especially true during the many festivities, such as those for the new harvest and the arrival of babies.
One had to partake in the drinking in order to blend in and appear engaged during these events. You may discover the making and fermentation processes for the banana brew while touring the Iby'iwacu cultural village. You must actively participate by consuming at least a sip of the finished product.
What are the special guidelines to consider while at the Gorilla guardians village Rwanda in 2024
The Iby'iwacu Cultural Center has established regulations and conventions that must be adhered to and respected when on the property, much like any other structured setting. Here are a few things to think about as you tour the cultural center:
It is against the law for visitors to leave trash at the Iby'iwacu Cultural Center. Garbage cans have been positioned at certain locations throughout the cultural center in order to maintain cleanliness.
Throughout your safari, and particularly while visiting the Gorilla Guardians Cultural Village, you must respect wildlife. Visitors are urged to respect the village's natural surroundings, especially the plants and other vegetation.
To avoid coming across as rude, you must be mindful of the regional conventions and traditions. When dining or introducing yourself to residents in the middle, for instance, try to use your right hand. When exchanging gifts with a native, it is customary to use both hands to show respect.
Tourists should ask for permission before taking pictures. When you need additional information about something, feel free to ask your tour guide or the elders. It's crucial to respect difference, especially when visiting a place as diverse and ethnic as the Iby'iwacu cultural center. Wear proper clothing without showing too much skin.
There will always be contrasts in cultures and the ways that things are done from place to place; thus, foreign tourists are urged to discuss their own cultures with the locals. While in the community, engage will also try to appear approachable and modest. Be patient as the natives describe and share their knowledge with you. The inhabitants' security are a top priority. If you have any gifts or donations, give them to the appropriate people.
Devine African Safaris always combines a visit to the Iby'iwacu cultural center in most of the Rwanda safari packages because it is among the best places to tour in Rwanda. The Iby'Iwacu cultural center is the perfect spot to take your family and friends for a retreat after participating in some of Rwanda's popular tourism activities, such as gorilla trekking in the Volcanoes National Park, hiking volcanoes, or mountain biking through the Congo Nile Trail.
The Iby'iwacu cultural center offers uniqueness, and we are truly convinced that visiting the Iby'iwacu village is one of the more memorable encounters while on your safari in Rwanda.