which accommodation facilities are in akagera national park 2024-rwanda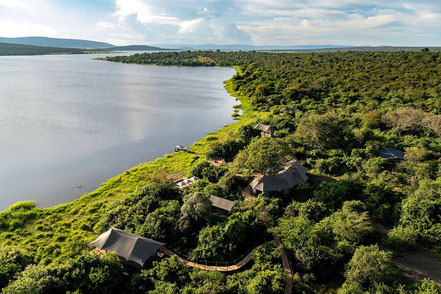 Accommodation facilities in Akagera National Park, Rwanda are available, and these facilities are up to scale depending on the customer's tastes and preferences. click here for Mountain gorilla trekking safaris
Akagera National Park it is perched in Gisenyi town in the Eastern part of Rwanda, it is in border of Rwanda and Tanzania, and is situated south of Gisenyi town. Akagera National Park occupies approximately 1,120km² and recognized as one of the East Africa's oldest national park. It was first established a national park in 1934. Accessing Akagera National Park takes between 2-3 hours from Kigali city. 
The northern region of Akagera National park is relatively covered with low-lying grasslands and vast savannah plains, which offers tourists the most thrilling 'typical' adventure safari, similar to other Savannah safari destinations in East Africa.
The western sector of Akagera national park is covered by well-endowed rolling hills and valleys which typically describe Rwanda as the country of a thousand hills. Rwandan countryside.
The Eastern part of the Akagera National Park is covered by the Akagera River which is combined with a series of lakes. Akagera National Park protects approximately 10 lakes within the park, the most famous one is called Lake Ihema, on which it offers a number of boat cruises being conducted. 
The eastern part of Akagera National park is considered to be with the most scenic views such as marshes and papyrus swamps, which encompasses the largest part of the central and the eastern Africa's largest protected wetlands.
Akagera National Park is fairly the largest and the only savannah national park in Rwanda, an Akagera adventure safari is extremely diversified with a variety of habitats, wildlife species, bird species, and lovely sceneries. try out this 1-Day Akagera National park Adventure Safari
Akagera National park is filled with endless-taking views, picturesque points and famously selling due to its its bio-diversifies bird species with over 480 bird species, thus making Akagera National Park the greatest spot for bird watching.
For tourist interested in visiting or carry out wonderful activities within Akagera National Park, you may wish to check out from the following up to standard  lodges and hotels  below when planning your safari accommodation for your Adventure safari
Ruzizi Tented Lodge
Ruzizi Tented Lodge is simple but the most comfortable safari lodge, offering the commendable eco-policy. Ruzizi Tented lodge is eco-friendly lodge that is situated within Akagera National park. Ruzizi tented lodge is in a good spot to explore the Akagera National park varying landscapes, given it is located in the close proximity to the park's main gate,
Ruzizi tented lodge is in the south of Akagera national park. Ruzizi tented Lodge was opened officially in 2012, Ruzizi Tented Lodge has proven to be a well coming additional factor to Akagera National Park.
Ruzizi tented Lodge food served at the restaurant is excellent, basing on the customer review, and its location in the beautiful serene. Ruzizi tented Lodge is opened throughout the year and makes a beautiful stopover as part of your longer Rwanda trip.
Tourist activities within Ruzizi Tented Lodge: While you are at Ruzizi Tented Lodge, travelers can engage in a number of activities such as morning game drives, evening game drives or night drives where tourists can get a chance of viewing the nocturnal animals such as lions and leopards amongst others.
Other activities available within Ruzizi tented lodge include boat trips at Lake Ihema. It is important to note the game drives are not done by the lodge but game drives are organized by the park's offices or by your trusted Tour Operator.
How to access Ruzizi Tented Lodge: Ruzizi Tented Lodge is perched within Akagera National Park and can be reached by road. It takes approximately 30 minutes from the park's gate.
Akagera Game Lodge
 Akagera Game Lodge is among the few accommodation facilities within Akagera National Park, Akagera National Park is adjacent to the Tanzanian border. Akagera National Park is More of a hotel than a traditional safari lodge, offering the fantastic views of Lake Ihema, Akagera Game Lodge has a big swimming pool perched on the edge of the savannah vast plains.
Akagera Game Lodge has 60 rooms in total and it is open for booking throughout the year round. Akagera Game Lodge is under the Mantis Resorts management since 2018.
Tourist activities within the Akagera Game Lodge include the morning game drives, evening game drives, night game drives, the boat cruise on Lake Ihema, guided nature walks within the park, swimming at the Lodge's beautifully well-designed pool to mention a few.
Akagera game lodge experiences both a peak, and the low season, in most cases being fully booked in the peak season.  Peak seasons takes place in the months of June-August and December to February, while the low season from March to May and September-November yearly. 
Magashi Safari Camp is situated in the far north of Akagera National Park, Magashi Safari Camp is a newly and luxurious safari camp style. Magashi safar camp overlooks Lake Rwanyakazinga providing the breath-taking views and greatest spot for travelers interested in chilling and relaxing. Magashi Safari camp was opened in 2019, with an aim of providing high-end accommodation services in a scenic safari area.
The Magashi Safari Camp is the only lodging facility that is set in the northern sector of Akagera national park offering all the expected fantastic hospitality services. Magashi Safari Camp presents a range of tourist activities including.
Guided Game Drives: Within Akagera National park is the only national park in Rwanda protecting the good sort after Big Five animals such as Cape buffalos, lions, African elephants, leopards, and Rhinos. However, Akagera national park also protects a number of smaller predators and herbivores such as Burchell's zebra, antelope species, jackals, and hyenas. Daily game drives from the lodge are conducted either early in the morning and late afternoon.
Boat cruise: Tourists having their night at Magashi Safari Camp can enjoy their boat trip on Lake Rwanyakazinga which is famous for its huge population of hippos, the Nile crocodile and a big number of water birds. This activity is the best for bird lovers.
Guided Nature Walks: Magashi Safari Camp, travelers interested in the guided nature walks, guided nature walks can be organized by the lodge management after booking prior to the activity. This is because the activity is totally dependent on the time and the availability of the professional well-trained guide at the lodge.
While on your nature walk, get an opportunity to view the many plant species, insect species and bird species within the Akagera National Park. Akagera National Park harbors over 480 bird species including the marabou stocks, crown cranes, egrets, and herons.
Sport Fishing: Lake Rwanyakazinga offers fishing spot and guests can happily participate in the catching and-releasing fish after the activity. This lake has fish species such as catfish and tilapia.
How to access Magashi Safari Camp; Magashi Safari Camp can be reached by road, with car services available from Kigali or by air with a helicopter transfer. Driving to Magashi safari camp takes between 5-6 hours by road with the shuttle service that depart at 8 am and 12 pm respectively daily. On your way get ready to view many wildlife species.
The helicopter service to Magashi safari camp is the fastest and the most convenient means of transport to access the camp and it offers spectacular views along the way.
Alternative Accommodation options outside Akagera National Park?
• Vintage cottage: The Vintage Cottages are set in Rwamagana, which is just 17 miles from the Akagera National Park. The cottages are approximately 20-minute drive from Kigali city.
The tented camp provides the breath-taking views of the lake, the lodge has an elegant and fancy restaurant with a cozy bar that is always fully stocked for tourist to relax and socialize while enjoying cold drinks. Vintage Cottages provides activities such as swimming at the beach or pool side and beach volleyball. Vintage Cottage is just 60 minutes' drive from Kigali International Airport.
• Nyagasambu Realm Beach Hotel: Nyagasambu realm beach hotel is set in approximately 25 miles outside the Akagera National Park. Nyagasambu Realm Beach Hotel offers a restaurant, bar, a shared lounge, and a beautiful garden. Nyagasambu Realm Beach Hotel also offers room services and a kids' club, alongside the free Wi-Fi throughout the property. Nyagasambu Realm Beach Hotel features a 24/7 front desk service, a shared kitchen and currency exchange for customers.
The hotel has a seating area, a flat-screen TV with all the satellite channels, a dining section and a private bathroom, a hot tub, and a bidet. All the rooms offer guests with a desk and a kettle. travelers at Nyagasambu Realm Beach Hotel always enjoy their continental breakfast.
The hotel offers a children's playground. Bike and car hire services are also available at Nyagasambu Realm Beach Hotel and there is a specific area which is best known for diving and fishing activities.
• Akagera Resort and Country Club: Akagera Resort and Country Club is situated within 18 miles from Akagera National Park in Kabalele town, Akagera Resort and country club is luxurious hotel. The resort offers a sun terrace, ethnic an acclaimed and a fine restaurant with free Wi-Fi.
Akagera Resort rooms are fully furnished with a flat-screen TV, clean and air conditioner, while some rooms have a seating area which is convenient for everyone, it also has a great view of the pool, a nice garden. All the rooms have private bathrooms with a bath and bidet, with slippers and toiletries are provided. There is a 24/7 front desk service at the Resort. The nearest international airport is Kigali International Airport, which is 77 km from the Akagera Resort and country Club.
when is the best time to visit Akagera National park
Akagera National Park is a mesmerizing place that tourists can visit throughout the year. Each season offers an opportunity to spot the park in a new light. However, it is just a duo of degrees south of the country's equator; Akagera National Park's altitude ranges from 1250 to 1825 meters, which makes the climate enjoyable at any time of the year.
Akagera National Park offers two dry seasons: the long dry season, which lasts from June to September and is the best time to visit Akagera National Park, and the short dry season, which lasts from December to early March. The wet season lasts from March to May every year. If you are interested in touring Akagera National Park with the aim of viewing the incredible wildlife species it sustains, I strongly recommend the dry months for a visit.
Akagera National Park undergrowth is sparse, and many animal species and birds come together near water bodies to take water, which makes it easy to spot these animals and birds. This season is also perfect for combining your Akagera National Park travel with a mountain gorilla trek in Volcanoes National Park to view the endangered mountain gorillas of Rwanda.