where can i stay in kibale forest national park 2024-uganda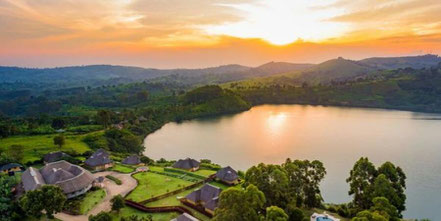 Aramaga Rift Valley Lodge
Aramaga Rift Valley Lodge was designed by a Ugandan artist who is passionate about sustainable development, he worked together with an American business partner, and they designed a place that offers guests exclusive African encounters and environmentally conscious hospitality services. Click here for Mountain gorilla trekking tours 
The Aramaga Rift Valley Lodge was perfectly constructed with the purpose of protecting the environment and harmonizing with natural resources. The Aramaga Rift Valley Lodge is perched on an escarpment that faces the Great Rift Valley, providing spectacular views of the African continent. Each guest room showcases breathtaking views of the Mountains of the Moon, the Rift Valley floor, and Semliki Wildlife Reserve.
Ataco country Resort
Ataco Country Resort is situated in Fort Portal's most gracious escape from the city, Ataco Country Resort is for traveling searching for a spot away from Kampala crowds. The lodge is passionate about making all guests enjoy their stay at ATACO Country Resort regardless of whether it is a weekend or weekday.
Ataco Country Resort was designed to bring travelers closer to nature, and travel to Uganda's top tourist attractions while exploring the lodge's amenities such as the swimming pool, bar, children's corner, and restaurant.
Chimpanzee Forest Lodge  
Chimpanzee Forest Lodge is situated at the edge of Kibale forest national Park, just 22 Km from Fort Portal - Kamwenge Road. Chimpanzee Forest Lodge sits in the beautiful gardens alongside the tea plantations, indigenous forest, and pasture. Chimpanzee forest lodge offers a beautiful panoramic vista within the Kibale National Park, Rwenzori mountains, and crater lakes. 
Chimpanzee Forest Lodge offers a comfortably furnished lounge with an excellent collection of colonial African literature. Chimpanzee Forest Lodge provides self-contained cottages with endless panoramic views of the Kibale Forest National Park and the stunning tea plantations. 
Crater Safari Lodge 
Crater Safari Lodge is situated along the banks of the Nyinabulitwa Crater Lake. Crater Safari Lodge creates the perfect blend with the surrounding landscape. It's the best spot for safari-goers in a prime place to explore Kibale Forest National Park. Crater Safari Lodge is on the edge of Nyinabulitwa Crater Lake, which is the best chimpanzee trekking experience within the Kibale Forest, which is a short drive away from the lodge.
Crater Safari Lodge is a few minutes from Uganda's lush green, dense tropical rain forest of Kibale National Park. Crater Safari Lodge offers unmatched luxury and breathtakingly beautiful scenery, with great chances of viewing unique wildlife species.
Duchess Hotel and Restaurant
Dutchess Hotel and Restaurant is conveniently situated in a quiet neighborhood next to the city area of Fort Portal. Dutchess Hotel offers 5 spacious rooms, 3 luxury rooms, 1 semi-luxury room, and 1 budget single room.  The hotel's restaurant serves food cooked with fresh products from Fort Portal, which offers homemade dairy. The hotel serves excellent international and local cuisine for breakfast, lunch, and dinner.
Fort Motel
Fort Motel offers a hotel accommodation facility in Fort Portal, Uganda's primate capital, near the Rwenzori Mountains, which can be easily viewed from the hotel rooms. Fort Motel is a good hotel for business travelers as well as leisure travelers. Fort Motel is in a perfect location within the prime destination of the Fort Portal town area.
Fort Motel has a fully stocked bar and a restaurant that overlooks the beautiful garden or swimming pool, which is suitable for everyone. The Fort Motel offers 21 spacious rooms with easy access to all the sites in town. The rooms at the Fort hotel are as impressive as the communal areas.  All the rooms are tiled floors or carpeted floors, warm comfortable beds, and each room has a walk-in shower or bathtub with both running warm and cold water.
Isunga Lodge  
Isunga Lodge is in a unique setting that overlooks the green expanse of Kibale Forest in the Western part of Uganda. Isunga Lodge has magnificent views of Uganda's beautiful rainforest, the huge peaks of the Rwenzori Mountains, Lake George, and an open savannah plain of Queen Elizabeth National park – travelers can see three national parks at once.
Isunga Lodge is uniquely located beside the tropical rainforest and midst the crater lake area, making the lodge the perfect base for Kibale forest national park exploration. wind or relax with nature as you enjoy the greatest outdoors, meet the local communities or you can just choose to relax in this restorative spot.
Isunga lodge offers eight simple, stylish cottages scattered around the large grounds providing privacy and serenity, the Isunga Lodge gives a natural wild garden setting. Travelers always feel like they are the only ones around. The lodge's Owners Gerry and Karen are always willing to help.
Kibale Forest Camp
Kibale Forest Camp showcase a variety of rooms that suit most travelers' budget. Be it the luxury canvas experience, Kibale forest Camp offers 12 African EnSite safari tents tucked away from each other in a lush-green forest or the grass thatched non-self-contained tents (lazy camping style), Kibale forest Camp offers a great value for money.
Kibale Forest Camp has an elegant tented camp situated in a patch of evergreen lush forest, just outside the southern sector of Kibale Forest National Park. Kibale forest Camp borders the Magombe swamp, which is famous for the Bigodi Wetland Sanctuary and is just 10 min drive to Kanyanchu Visitor Center, the place where all chimpanzee trekking experiences start from.
KIbale guest cottages  
Kibale guest cottages are situated adjacent to the African tropical Kibale forest, the lodge offers a 12-cottage set on a 5-acre garden and each cottage is styled with a high-standard solar hot shower. Each cottage balcony provides a spectacular view of the Kibale forest which is famous for the chimpanzee trekking experiences and other several primate species and hosts diverse bird species which are commonly sighted in the gardens.
Kibale guest cottages' indigenous trees in the gardens are all named/tagged for identification purposes.
Kyaninga Lodge  
Kyaninga Lodge is Set against the most stunning backdrop next to Lake Kyaninga that allows viewing of the Rwenzori Mountains and beyond, Kyaninga Lodge is the spectacular feedback from one man's vision of six years of real commitment to creating an experience for Africa's beauty that is not anything else. 
Kyaninga Lodge offers an experience with the beauty and romance of unexplored regions, Kyaninga Lodge makes travelers stay at the height of top luxury and elegance. Kyaninga Lodge has nine exclusive cottages crafted from hand-carved made logs, superb dining, and a wealth of adventures.
Ndali Lodge 
Ndali Lodge offers a perfect spot for the region's most popular attractions. Kibale Forest National park is an Uganda National park that is famous for protecting the largest population of chimpanzees in Africa, bewildering the variety of other primate species, bird species, and butterfly species. 
Ndali Lodge is also close to the Bigodi Wetland Sanctuary, a community-based conservation project that protects a variety of monkeys, other mammal species, and importantly a number of rare bird species such as the White-winged Warbler, papyrus Gonolek, and White-collared Olive back. Other bird species frequently seen are the African Marsh Harrier, Grey parrot, African Harrier-Hawk, yellow-billed barbet, Black-billed Turaco, and White-breasted Negrofinch.
 Papaya Lake Lodge
Papaya Lake Lodge is a further afield that can be shared by three more national parks, the driving distance are within ease such as the World Heritage like the Rwenzori Mountains, Uganda's most famous Queen Elizabeth National Park, and Kibale forest national park.
Papaya Lake Lodge is in a place that is surrounded by the lush, evergreen landscapes within the Ugandan Great Crater Lakes region, perched between the two extinct volcanoes, set against the turquoise waters of Lake Lyantonde and Lake Kifuruka offering exhilarating views of the majestic Ruwenzori Mountains.
 Primate Safari Lodge 
Primate Lodge is an exclusive eco-friendly lodge and honeymoon destination located in the heart of Kibale Forest National Park. The primate safari lodge is surrounded by a dense tropical rainforest that protects over 13 different primate species, including chimpanzees. Primate safari lodge offers a rare authentic jungle experience and it is the perfect gateway for primates tracking in Uganda mostly the chimpanzee.
Primate safari lodge has 8 luxury safari tents, 6 forest cottages, each with a private veranda and en suite facilities, 1 elevated safari banda with a sitting area, an extended balcony, and clean bathroom, 1Sky Tree House, and a Campsite Which makes Primates Safari Lodge an ideal place to unwind and enjoy nature surrounding you. Primates safari lodge was constructed with the use of local materials.
Turaco Treetops
 Turaco Treetops believes in providing an uncomplicated and warm-hearted atmosphere for all the guests whether the traveler is looking at exploring the Kibale Forest national park and all the surrounding regions or staying to unwind.
Immerse yourself in nature at Turaco Treetops' 5.2 hectares of tropical rain forest, neighboring the lush ever-green Kibale National Park, famous for its high concentration of chimpanzees. Turaco Treetops lodge grounds offer many species of birds, monkey species, and butterfly species inhabiting the Kibale Forest alongside other primates such as Bush Babies, Black & White Colobus monkeys, and the Great Blue Turaco.
Rwetera Safari Lodge 
Rweteera Safari Park is among Uganda's rewarding safari Lodges within the Kibale forest to be explored. Rweteera Safari park is situated outside Kibale Forest National Park, which is 18km along Kamwenge road. Rweteera Safari park is an ideal destination for travelers visiting Kibale Forest National Park, Semliki National, Queen Elizabeth National Park, Rwenzori mountains National park, and Semliki Game Reserve. 
Chimpanzee Lodge 
Chimpundu Lodge provides Luxury cottages with an array of authentic Kibale Forest National Park experiences in a lush evergreen indigenous setting.
Chimpundu Lodge helps travelers spend time relaxing with friends and family at the fully stocked bar, and enjoy lifetime meals at the restaurant or at the well-designed swimming pool. Chimpundu Lodge is the true definition of an intimate and exclusive experience.
 Guereza Canopy Lodge 
Guereza Canopy Lodge is set within the periphery of Uganda's largest home of the primates Kibale Forest National Park, Guereza Canopy Lodge is the ideal tropical hideout for a never-ending intimacy with nature. Kibale Forest National park protects the highest density of primate species in the world and is the best place to trek Man's closest relative the Chimpanzee.
You often hear chimpanzees playing in your room. Our lodge got its name after the Mantled Guereza monkey, famously known as the white-and-black-colobus monkey. 
When is the best time to visit Kibale Forest National park
The best time to tour Kibale Forest National Park is open for chimpanzee trekking and primate viewing throughout the year, but the most suitable time to visit Kibale Forest National Park is during the dry seasons of June to mid-September and from December to early March. click for chimpanzee trekking tour