where is africa's most accessible gorilla trekking?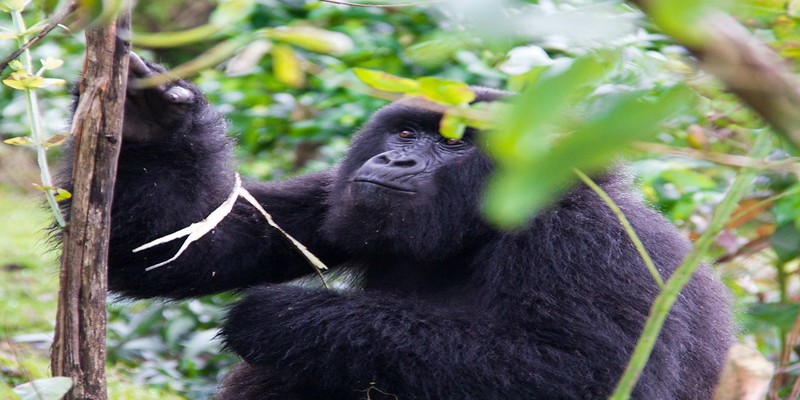 Rwanda offers a unique environment, kind people, and a one-of-a-kind encounter with mountain gorillas. Rwanda is distinguished by its vast biodiversity, volcanoes, and tropical rainforests, home to wild mountain gorillas. Rwanda's mountain gorillas are experienced in isolation, but Rwanda mountain gorilla trekking tours can be combined well with other East African tourist destinations like Uganda, Tanzania, and Kenya.
Rwanda is greener and hillier than your eyes can see; it is home to the Nyungwe Forest National Park, where the chimpanzees frolic, and a myriad of bird species. There is Akagera National Park in the low-lying eastern part of the country. Akagera National Park gives Rwanda's visitors the best big game viewing in a bio-diversified savannah with safari heavyweights such as lions, rhinos, giraffes, and elephants. Check out our best reasons why you should go on a Rwanda tour.
1. Life-time Stirring Encounters with Mountain Gorillas and Wildlife
Rwanda protects some of the world's greatest primate trekking, located against rolling hills, forest canopies, and sublime mountain peaks. With the world's surviving mountain gorilla population left in the wild, it's no wonder that most wildlife enthusiasts explore Rwanda to trek and spend their time with the critically endangered mountain gorillas up close.
Highlights:
• Embark on a mountain gorilla trekking safari throughout the year.
• Track golden monkeys, chimpanzees, and birds.
• Explore Dian Fossey's life and work.
• Discover Nyungwe Forest National Park and Volcanoes National Park.
2. Kigali City: The Modern Heartbeat of Rwanda
Kigali is safe, clean, and fresh, and offers a tumultuous past that makes it one of Africa's friendliest cities and the best starting point to begin a Rwanda safari. Kigali's vibrant shopping malls are located within the city center, showcasing affordable and luxurious boutiques, coffee shops, and local markets. Kigali is the beating heart of Rwanda. Kigali city is scattered within several hills and has enough activities to keep travelers occupied for many days.
Highlights:
• Make a stopover at the Kigali Cultural Village for live music and craft workshops.
• Taste the most excellent fair-trade coffee in the world at Hingakwa Women's Coffee Cooperative.
• Time your time at the Kigali Film Festival, Kigali Fashion Show, and Hobe Rwanda Festival.
• Take a tour to pay your last respects to the somber Genocide Memorial Centre.
3. Sustainable Gorilla Safaris with the Dian Fossey Gorilla Fund and Ellen DeGeneres Campus
The bamboo-covered steep slopes of Rwanda's volcanoes are home to the late Dian Fossey's tomb. Dian Fossey helped study the behavior of the endangered mountain gorilla for over 20 years, which was followed by the filmmakers who shot Gorillas in the Mist. Travelers can now encounter one of the most memorable wildlife experiences on Earth and also actively participate in the gargantuan efforts to save the endangered species by going mountain gorilla trekking and engaging with local scientists in Rwanda's innovative research space.
Highlights:
• Take a 2-hour behind-the-scenes campus tour with Rwanda's gorilla researcher.
• Immerse yourself in a half-day activity at the Research Center.
• Join our private, 2-hour masterclass in gorilla conservation.
• Encounter the gorillas one-on-one while trekking with a Dian Fossey Gorilla Fund researcher.
• Immersive gorilla conservation experiences
4. convenient travel and easily combined with other destinations 
Small, easy, and compact to travel around the globe, Rwanda's main drawcard safari is the easiest and most accessible mountain gorilla trekking safari. After arriving in Kigali, Rwanda's capital, you will only be a few hours' drive from the legendary Volcanoes National Park, which habituates its mountain gorilla families for legitimate and awe-inspiring gorilla trekking in Rwanda. Rwanda Safari can also be easily combined with other celebrated tour destinations such as Uganda, Kenya, Tanzania, and the vast open white-sand beaches of Zanzibar.
Highlights:
• Easily combine gorilla trekking with Big Five safari destinations and island chills.
• Fly-in travel and customizable gorilla trekking itineraries
• The most accessible mountain gorilla trekking experiences
• Extend the gorilla trekking safari with a trip to Uganda or the Congo.