where can i Trek chimpanzee trekking 2024 in uganda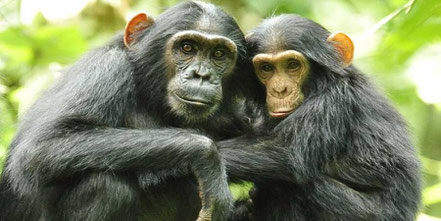 By no means does Uganda support mountain gorillas, Uganda's chimps are a draw in their own right. Chimpanzees occupy different habitats than mountain gorillas and surviving within distinct social structures, the chimps are closer to humans. Chimpanzees have a dark side that enthralls and more charming characteristics.
Uganda offers a unique and can combine a huge biodiversity of wildlife species and safari experiences with just a single itinerary. Chimp tracking in Uganda is among the most remarkable wildlife encounters available on the continent. 
Uganda offers three major chimpanzee trekking destinations namely Kibale Forest National Park, Budongo Forest in Murchison Falls National Park, and Kyambura Gorge in Queen Elizabeth National Park. Kibale Forest National Park is the best place for chimpanzee trekking because Kibale Forest offers the highest population of chimpanzees in Uganda and sightings of them are higher.
What is chimpanzee trekking?
Chimpanzee trekking is among the most famous wildlife encounters in Uganda, it allows travelers to enter into the world of chimpanzees in the African wilderness. Uganda Wildlife Authority issues 8 chimpanzee permits for a small group of travelers for 8 travelers per chimpanzee permit into the realm of the chimps.
Chimpanzee treks last from 1-4 hours and include a maximum of an hour with the chimpanzees, during the trekking travelers should expect to see chimps from a safe but intimate distance of about 8-10 meters. Get up close with the chimpanzees in the wilderness and discover how beautiful chimpanzees are, how intelligent, and their social structures.
What is chimpanzee habituation?
Chimpanzee habituation is a fully immersive experience where travelers join researchers, park rangers, and scientists. Chimpanzee habituation trekkers take a half or full-day excursion deep into the tropical rainforest. Chimpanzees that are used for chimp habituation are less used to human presence which makes the chimpanzee habituation experience unmatched.
The only difference between the standard chimpanzee trekking and the chimpanzee habituation experience is how long a traveler spends with the chimpanzees. The Chimpanzee habituation experience allows a traveler to spend much time with the chimps.  
 Try out our most recommended 4-days chimpanzee trekking in Uganda
Where can I go chimpanzee trekking in Uganda?