best 1 day gorilla trekkig  in rwanda?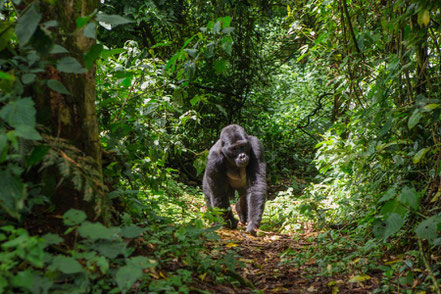 Rwanda offers a unique environment and kind people who are so welcoming, providing one-of-a-kind encounters. Rwanda is characterized by its amazing biodiversity, highlands, volcanoes, and tropical rainforests that protect mountain gorillas.
Rwanda's mountain gorillas are encountered in rare isolation. Gorilla trekking safaris in Rwanda can be combined with other destinations such as Uganda, Tanzania, and Kenya.
Rwanda is greener and hillier than your eyes can meet; it also protects the primate-filled Nyungwe National Park, where the chimpanzees frolic, many bird species, and canopy walks can be carried out. Nyungwe Forest National Park is situated in the low-lying eastern part of Rwanda.
Akagera National Park presents travelers with big game viewing in a huge savannah setting with animals such as lions, rhinos, and elephants. Here are some of the best reason's travelers should go on a Rwanda safari:
Can I encounter mountain gorillas and wildlife in Rwanda?
Rwanda is among the three countries protecting the world's greatest primate trekking opportunities. Gorilla trekking in Rwanda is done against a backdrop of a thousand rolling hills, majestic mountain peaks, and forest canopies.
Rwanda protects half of the world's total surviving mountain gorilla population in the wild; the most avid wildlife enthusiast draws many tourists to Rwanda to track and spend some quality time with the endangered primate species up close.
Highlights: 
• Trek mountain gorillas all year round.
• Experience golden monkeys, forest birds, and chimpanzees.
• Tour Dian Fossey's tour and learn more about gorilla conservation.
Kigali is clean, safe, and has risen from its past to become one of Africa's best cities, It is the perfect spot to start a Rwanda gorilla safari, chimpanzee trekking safari, golden monkey trekking safari, or a wonderful safari to Akagera National Park.
Kigali tours range from the vibrant shopping malls showcasing coffee shops, boutiques, and lively local markets. Kigali city is scattered over many hills, offering enough to keep travelers occupied for a number of days.
Highlights: 
• Make a stopover at the Kigali Cultural Village for a wonderful live music and art workshop.
• Sample Rwanda's greatest fair-trade coffee in the world at Hingakwa Women's Coffee Cooperative.
• Time your safari to Rwanda with the Kigali Film Festival, Kigali Fashion Show, and Hobe Rwanda Festival.
• Pay your respects to the genocide victims at the Sombre Genocide Memorial Center.
Dian Fossey placed her education center on the bamboo-filled slopes of Rwanda's Virunga Volcanoes, where she studied the behavior of mountain gorillas for over 20 years, accompanied by the filmmakers who shot Gorillas in the Mist.
Tourists can now not only encounter one of the most memorable lifetime experiences on Earth but can also actively take part in conservation efforts to save endangered species by gorilla trekking and engaging with the local scientists in their innovative research centers.
Highlights: 
• Participate in a 2-hour behind-the-scenes campus safari with a gorilla researcher.
• Take part in a half-day activity at the Price Research Center.
• Join a private Rwanda's 2-hour masterclass in the gorilla conservation center.
• Engage in gorilla trekking with a Dian Fossey Gorilla Fund researcher.
Can I combine Rwanda gorilla trekking safaris with other African destinations?
Easy to travel around due to its size, the main draw key for Rwanda safaris is mountain gorilla trekking because it is the easiest and most easily accessible gorilla trekking safari. I recommend this 2-days gorilla trekking tour
Upon your arrival in the capital city of Kigali, tourists only have a few hours' drive away from Rwanda's Volcanoes National Habituating Rwanda's mountain gorilla families for an authentic and inspiring gorilla trek. Rwanda's mountain gorilla trekking safari can easily be combined with other African safari destinations like Congo, Uganda, Kenya, Tanzania, and the white-sand Zanzibar beaches.
Highlights: 
• Tourists can easily combine their gorilla treks with chimpanzee trekking or golden monkey trekking.
• Request a fly-in travel and customizable itineraries, and we are flexible.
• Rwanda offers the most accessible gorilla trekking experiences.
• Extend your gorilla trekking experience with a trip to Uganda.