You've been up since the sun rose and it is now glowing calmly on the Virunga Volcanoes, casting
a heart-warming light over the rainforest and deep shadows into the mountains. Following the lead of your expert guide, you trudge meaningfully and carefully through dense forest, navigating trails and untrodden land.
Your guide pulls back one last branch, reminiscent of a compare in the theatre, and you find yourself introduced to a creature that appears so unequivocally human, your heart doesn't know whether to skip a beat or pound twice as hard.
Face to face encounters with gorillas are humbling, emotional and a real privilege. There is a feeling of mutual understanding as you watch them in their own home, going about their daily business. Youngsters will often show off to forest new-comers, literally jumping for joy at having someone fresh to demonstrate their motor skills to. Silverbacks may beat their chests as a sign of dominance or even charge, an exhilerating experience! They may sit peacefully as a family, chomping on bamboo and grooming each other, watching you with the same intrigue you are showing them. Gorilla trekking is often referred to as 'the most memorable experience in the world' and we can honestly say you'll understand why.
You have one hour with the gorillas each time you track them and it never feels enough. This is why we always recommend two treks. A second time allows you to put the camera down. You can track a different family, trek a different area of the park or cross the border and track them in a different country. No two gorilla experiences are ever the same.
Time to leave comes too early, and you follow the trail back to your cosy mountain lodge. Evenings in the mountains can be spent sharing your stories and photos of the day in front of a camp-fire, drink in hand. Wrap yourself in a warm blanket to protect yourself from the cool mountain air and settle into your seat. No other wildlife encounter can match the awe-inspiring experience that is mountain gorilla tracking and now that you know this, you'll want nothing more than to talk about it.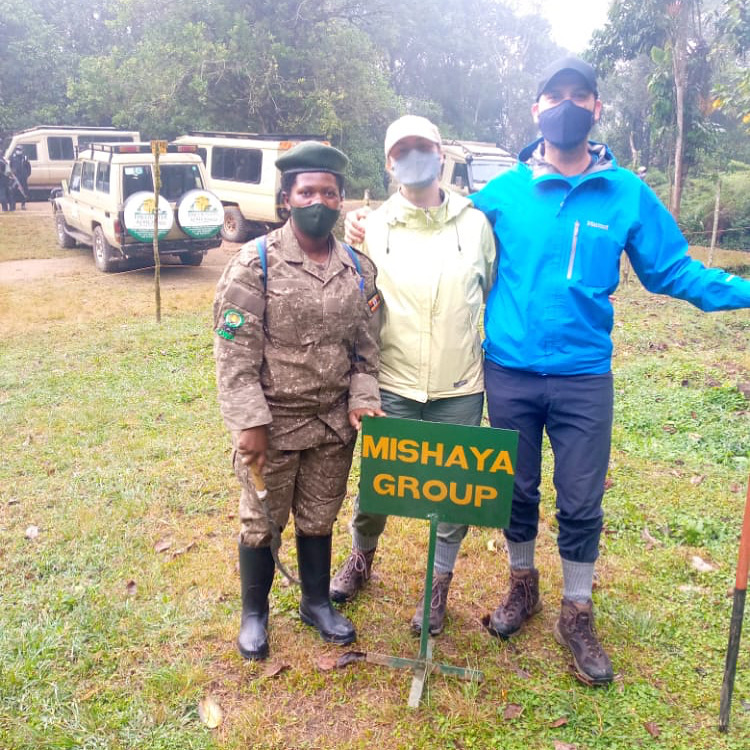 The gorillas are wild animals; their behaviour is not predictable or controlled in any way. By tracking them, you are opening the doorway into their home and seeing them in their natural environment. You may witness knuckle walking, eating, playing, grunting, sleeping and it will be totally unique to your trip.
These animals are sadly quite literally on the brink of extinction, gorilla tracking is for sure a life-changing and once-in-a-lifetime experience.
Gorilla tracking is a niche activity that can be done only in Uganda, Rwanda and the Republic of Congo at present. Each area is unique and you are guaranteed to have an incredible experience in any of these destinations. They are all different so we have listed out some of the best bits and the downsides for each to help give you an idea of where is best for you.
The Best bits
Terrain here is less steep and dense, and treks are generally shorter, making it an easier destination than Uganda.
• Known to lend itself to slightly clearer conditions for photography.
• Combine gorilla tracking with golden monkey tracking.
• Dramatic backdrops include the stunning Virunga Volcano chain drifting off into the distance.
• Great for short gorilla tracking safaris, for those with limited time.
Downside
• Gorilla permits are more expensive than in neighbouring Uganda (US$1500 per person)
• The tracking can be a little too easy depending on where the gorillas are.
• Not much opportunity to see traditional African wildlife and game.
The Best bits
• Two national parks in which you can track the gorillas.
• Longer treks can mean you see more of the national parks by foot.
• Combine your gorilla tracking with chimpanzee tracking.
• See the tree-climbing lions of Ishasha.
• Embark on game drives and see more African wildlife.
• Excellent accommodation options.
• Can easily be combined with other African destinations for more wildlife, or beach options.
• Real sense of adventure during your trek.
Downside
• Slightly harder trekking than in neighbouring Rwanda. The terrain can be steep and the vegetation thick. Be prepared to work for your gorillas, but once you are there, it is even more satisfying!
• Can involve very long drives, depending on the park in which you are tracking.
The Best bits
Opportunity to track lowland gorillas and wild chimpanzees.
• May be able to photograph the gorillas with forest elephants and sitatunga.
• A real 'into the wild' experience on relatively unchartered territory.
• Can also meet the Ba'Aka tribes and learn how they hunt.
• Visit local villages and learn their way of life.
• Chance to spot unusual primates including galagos and pottos.
• Enjoy pirogue rides.
• Not a popular tourist destination, so you are unlikely to meet any crowds.
Downside
Lowland gorillas, unlike their mountain cousins, will often keep moving throughout the day, meaning treks can be long, and through dense vegetation.
• Not much choice when it comes to accommodation (luckily both the camps are really nice).
• Access is via long and sometimes uncomfortable
You can track gorillas at any time of the year, especially in Uganda and Rwanda. The rainy seasons of March to May, and October to November, do make it slightly harder work under foot as conditions get muddy. These times, however, are often great for photography as the overcast conditions provide better lighting and the vegetation is more vibrant.
For our favourite times, stick to the shoulder seasons of February and September. During these months you are out of the peak season which makes it quieter and you can also combine a fantastic extension to Kenya or Tanzania for the migration, again avoiding the peak holiday months making for much better quality sightings.
Our safaris to track lowland gorillas in the Republic of Congo depart between May and December. The long dry season is May to August which generally brings light skies and easier terrain, but is perhaps more difficult for photography with bright overhead light. The short dry season, January to February, is similar. The long wet season and short wet season (September to December and March to April respectively), bring more challenging and unpredictable terrain, alongside some incredible photo opportunities under cloudy skies and impressive thunderstorms.
The Congo is never 'busy' so you don't have to avoid the peak travel times. You will need to discuss with us the best time for you to travel to the R.O.C.
To track the mountain gorillas in Uganda and Rwanda, or the lowland gorillas in the Republic of Congo, you need a permit. These permits are purchased on a per person, per trek basis and a percentage of each permit goes back into the local community and park infrastructure.
We can organise your gorilla permits for you as doing it direct with the park can be hard work. We do not charge a commission on this, permit costs are the same whether through us or direct with the national park.
We recommend you track the gorillas twice and hence buy two permits. This is for a number of reasons:
• The first time you will often spend most of your time behind the lens of your camera, so the second time you can relax and enjoy the experience.
• You can track two families.
• As a backup just in-case you do not see the gorillas on one of your attempts.
• You can even track once in Uganda and once in Rwanda to compare the two.
• No tracking experience is ever the same.
Costs are per person, per permit.
In Uganda
 Permits cost US$700.
 In Rwanda
 Permits cost US$1500.
 In the Congo
 The cost of your permit is included with your accommodation and overall safari cost.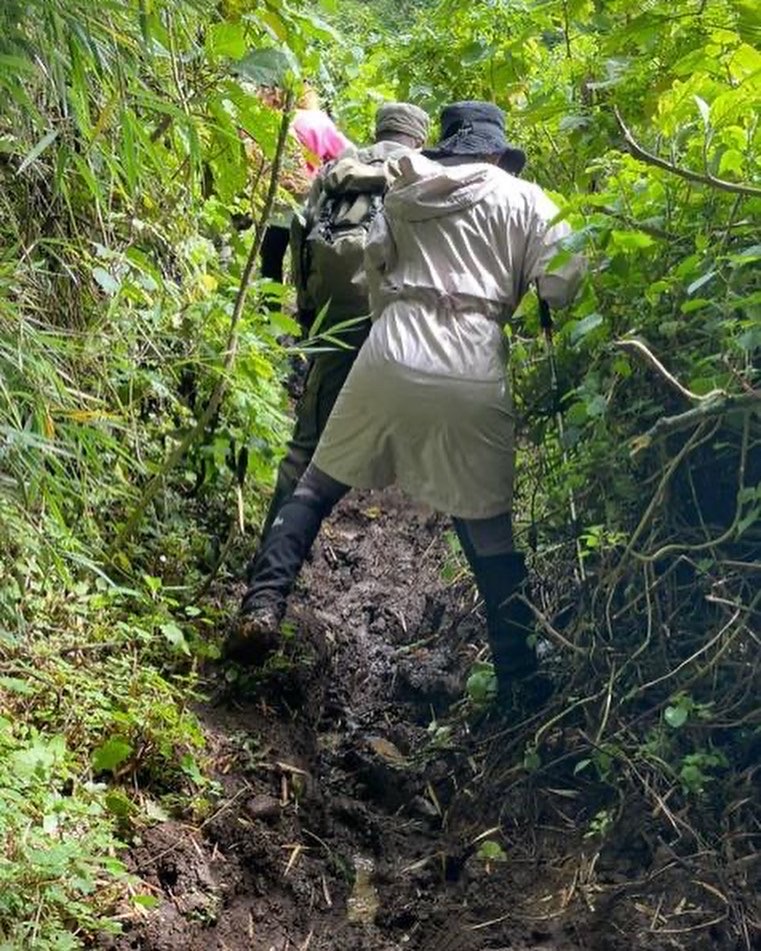 It is important that all gorilla tracking participants familiarise themselves with the following regulations and rules of conduct:
• Only a specific number of gorilla tracking permits are available each day and therefore they must be booked well in advance.
• You must take the appropriate clothing and equipment for tracking the gorillas. We will send you a packing list.
• Gorilla tracking is limited to people aged 15 or above.
• Only visitors in good health at time of tracking will be permitted.
• Tracking of gorillas can be denied at short notice due to security.
• You are tracking wild animals and therefore the purchase of a gorilla permit does not guarantee seeing them.
• Keep a minimum distance of 7 metres at all times from the gorillas.
• Flash photography is not allowed. Personal video recorders are permitted. Avoid taking an excessive number of photos.
• You must, at all times, follow the instructions of your guide. He is in contact with the gorillas every day and understands them well. Always remain in a quiet, compact group behind the guide, who will attempt to position you in such a way that the dominant male of the group can see you at all times.
• If the dominant male gorilla (usually a silverback) approaches very closely, or if he charges, it is very important that you do not move backwards. Remain exactly where you are, look downward, and adopt a submissive, crouched posture.
• Never make any sudden moves or loud noises.
• If a young gorilla approaches, never make any move to touch it. Your guide, in certain instances, may take steps to discourage a youngster from trying to touch you, as this could create a threatening situation with the dominant male.
• If a gorilla stares at you, look away or down.
• Each gorilla family may be visited only once each day, during the morning hours.
• All gorilla visits are limited to a maximum number of eight people per gorilla family for a maximum length of one hour. Due to the already-limited number of individuals allowed to visit the gorillas each day it is not possible to do gorilla tracking on a private basis.
• Smoking, eating, and/or drinking are not permitted within 200 metres of a gorilla family. Please avoid smoking at any time.
• It is prohibited to destroy any vegetation unnecessarily and to make open fires in the national parks and reserves. The flora and fauna of national parks and reserves are strictly protected.
• All visitors must carry their own litter with them out of the park or reserve, leaving nothing behind.
Photographing the gorillas can be difficult due to light conditions and proximity, as well as your limited time with them. The likelihood is that you will not have shot in these conditions before so it is important to be as prepared as possible to get the best photos and memories from your experience. Make sure you enjoy it too, focus on the experience and your images will be great. Don't be a photo-trophy hunter!
Use a porter. Porters are a small cost and will help carry your equipment and assist you on your trek. This makes your trek more enjoyable and gives them work.
Be watertight. Make sure you have waterproof bags or covers for your camera. It may rain which would result in amazing photos, if you can keep your equipment dry!
Which camera? The body of your camera is totally up to you. We recommend a digital SLR that can shoot at a high ISO as you will probably have to shoot in quite low light at times. 800 or above is good, similar to what you would use if you were shooting indoors without a flash. A bonus point is having inbuilt stability as you cannot bring tripods or monopods.
Which lens? You will be at least 7 metres from the gorillas at all
times. We recommend a 24-70mm and a 70-200mm lens, as well
as a 200-400mm if possible. A 100-400mm would also be a good option with a tele-converter (1.4).
Flash. Do not use flash.
Accessorise. Bring your chargers and plenty of spare batteries. Keep everything as charged as possible throughout the trip. Make sure you have additional storage cards to what you think you need.
Downloading images. Leave a laptop back at the lodge so you can download and enjoy your images after your trek.
No. Gorillas are susceptible to human disease and even
something minor to us can be fatal to them. Take care of your health prior to your safari to try and avoid getting sick. You must warn your guide if you are feeling unwell.
There is a maximum of 8 people per gorilla tracking group in Rwanda and Uganda.
You will be located within easy access of the park headquarters, but the distance will depend on which accommodation you opt for. The distance to the headquarters will vary from a one minute walk to an hour's drive.
Gorilla tracking excursions can vary in length and difficulty. It is possible that you will spend anything from 40 minutes to 7 hours tracking through the rainforest and you can reach altitudes of up to 6,500 feet above sea level. Anyone with a reasonable fitness level should be okay, but you must remember that paths can be slippery and steep and the foliage thick.
The terrain is a little more difficult in Uganda than it is in Rwanda. You can take your time, and don't worry if your group is slow, you will still have a full hour with the gorillas.
Upon seeing the gorillas you will have just one hour with them. We recommend you track them at least twice. The second time you often feel you can put the camera down and really enjoy the experience.
15 years. It may be possible for a younger child to be cared for at your lodge whilst you are tracking gorillas.
These are wild animals so there are no guarantees, but it is highly unlikely you won't see them. In all our years of operating in these
regions, we have had just one client unsuccessful, and she tracked them twice, getting some amazing sightings the second time.
Guides are trained in locating the gorillas and will know where they were the day before, as well as their movement habits.
We will provide you with a packing list on booking. A few essentials include gardening gloves to help with spikey vegetation, worn
in sturdy hiking boots and a waterproof, windproof, breathable jacket. Whilst out tracking gorillas you will want to wear natural / khaki coloured clothing, preferably quick drying and moisture wicking.
Bring a smaller backpack for trekking that you can fit extra layers in, as well as you camera equipment etc.
All countries require travellers to have a valid passport (with a minimum 6 months validity), and you are required to acquire the entry visas for each of the countries visited.
Rwanda
Most nationalities need to apply for visa "facilitation" prior to visiting Rwanda. Please check the Rwanda immigration department's official website – www.migration.gov.rw – which nationalities need a visa and which ones do not – it is VERY important to do this as travelers without the correct documentation with them will NOT be allowed to board their Rwanda bound flight. The visa facilitation is also applied for on this website and you normally get a confirmation in 3-5 working days. Please make sure you apply for this at least a month before your intended arrival to Rwanda. Bring a copy of the visa approval sent to you (VERY important) and pay for the visa at point of entry. Current cost for a 15 day tourist visa is US$ 50 per person (June 2015) – payable in US$ cash only. Please be aware that the US$ notes has to be from 2006 or newer, older notes are NOT accepted for payments in Rwanda.
** Please be advised that a valid yellow fever vaccination card is mandatory for entry into Rwanda.
Uganda
Visas for Uganda for most nationalities must be obtained through an Electronic Visa application online in advance, and a payment of $50 USD cash will have to be made upon arrival to the border.
** Please be advised that a valid yellow fever vaccination card is mandatory for entry into Uganda.
East Africa Tourist Visa
An East Africa Tourist Visa allows the holder to move freely between Kenya, Rwanda and Uganda with only one Visa, and is valid for a period of 90 days. It also acts as a multiple entry Visa, so if you leave any of the above countries, you do not need a new Visa to re-enter (provided it is within the 90 day validity period). These need to be applied for in advance, and you should contact the foreign Embassy (of the country you will be entering through) for more details. The cost is 100USD.
Spending Money
Every traveller is different and therefore spending money requirements will vary. Some travellers may drink more than others while other travellers like to purchase more souvenirs than most. Please consider your own spending habits when it comes to allowing for drinks, shopping and tipping. Please also remember the following specific recommendations when planning your trip.
Money Exchange
The local currency in Uganda is the Ugandan Shilling (UGX, or USH), and in Kenya is the Kenyan Shilling (KES, or KSH). 
Shillings can be obtained locally by changing foreign currency or by using ATMs (where available) which will disperse local currency. 
The easiest foreign currency to exchange for locally for any of the local currencies is the $US; however the British Pound and Euro may also be exchanged as well. Please note that due to past problems with forgery, $US notes that are older than year 2006 are not accepted in Africa.
Large note ($US 50, $US 100 etc) can be difficult to change in some places, but will gain you the best exchange rate.
If you plan to rely on cash, please bring foreign currency (Euro, Pound, USD) with you, as it is often expensive to buy these currencies locally. And in more rural areas, it is often not likely.
If you plan to buy your visas at borders, you will need to bring $USD cash to pay for these visas. Please note you cannot use the local currency or any other currency to buy these visas- they must be purchased in USD.
Please do not bring Travellers' cheques to Africa. They are difficult if not impossible to exchange in many places.
Visa/Plus system cards are the most widely accepted debit cards. it is harder to find machines Mastercard/Cirrus cards. We highly recommend that if you hold a Mastercard, you obtain a Visa card prior to departure and travel with both. This is also useful should something unforeseen happen to one of your cards during your travels.
While there are many ATMs in the major centres, there are no guarantees that your credit or debit cards will actually work in Africa. Check with your bank.
Credit cards can be used in major cities and towns ONLY but please do not rely on them as a method of payment because they are generally not widely accepted. You should be aware that to purchase products or services on a credit card a fee of 5%-10% usually applies. The majority of our optional activities can also be paid by credit card. 
Please note that in many areas there may be occasional power-outages, where there will be no electricity for hours at a time. In addition, ATMs outside of larger centers often run out of cash or can be out of order unexpectedly. These factors could affect your ability to access money from ATMs. As such, please do not rely on credit or debit cards as your only source of money.
A combination of foreign currency and debit/credit cards for cash advances is best. Always take more rather than less, as you don't want to spoil the trip by constantly feeling short of funds.
As currency exchange rates can fluctuate often we ask that you refer to the following website for daily exchange rates: www.xe.com.
Emergency Fund
Please also make sure you have access to at least an additional USD $200 (or equivalent) as an 'emergency' fund, to be used when circumstances outside our control (ex. a natural disaster) require a change to our planned route. This is a rare occurrence!
Tipping
Tipping is an expected, though not compulsory, component of your tour program. The gesture serves as an expression of appreciation for exceptional service, and amounts given are up to your discretion.
Tipping is one of the most direct ways that you can have a positive economic impact within the African community. Although it may not be customary for you, it is an important source of income for those in the tourism industry. Giving a tip should be a seen as a formal 'thank you', and the action should in no way be awkward.
The best method of tipping someone that has served the whole group is to plan in advance, and not rush when it comes to saying goodbye. A suggestion would be for each group member to contribute anonymously by putting their tip into an envelope. This often works the best and the group should gather to present the gift to the recipient(s), offering their thanks and showing their appreciation. This method brings the action out into the open, allowing for a friendly and appreciative interaction between the group and the recipient(s).
You may use the following as a guideline, all given in a per person format:
Local guides: $2-3 USD (per day).
Safari Guide/Driver: $2-3 USD (per day).
Restaurant Staff: 10-15% of cost of bill.
Gorilla trekking guides: $2-4 (per day).
Travel Insurance
Travel insurance is compulsory in order to participate on any of our trips. We strongly recommend that the policy also covers personal liability, cancellation, curtailment and loss of luggage and personal effects.
International Flights
Check-in times and baggage allowances/restrictions vary by airline and can change at any time. For the most up-to-date information for your flight, please contact your airline. We recommend checking in online in advance to avoid potential delays at the airport.
There are four subspecies of gorilla; mountain gorillas, western lowland gorillas, eastern lowland gorillas (Grauer's gorillas) and cross river gorillas.
There are just 880 mountain gorillas left living in the wild now, spread between Uganda, Rwanda and the Democratic Republic of Congo (DRC) within the Virunga Volcanoes Massif. Western lowland gorillas are the most populous, with a population of possibly 100,000 thought to be living throughout the low, tropical forests of central Africa. Eastern lowland gorillas have a dwindling population of fewer than 8,500 throughout the DRC and the least known sub-species, the cross river gorilla, which is found only in western Cameroon and south-eastern Nigeria, has approximately 250 remaining in the wild.
With the land around the homes of these animals being densely populated, their threats for survival are real and include poaching, disease and habitat loss.
By visiting these areas and purchasing gorilla tracking permits, you are helping fund an increase in gorilla populations. By hiring a porter for your trek or buying from local communities you are also helping locals to earn honest living. It is without doubt that it is the Gorilla Doctors as well as wildlife tourism that has contributed to the increase in gorilla populations throughout this Central African region. Donations no matter how large or small go a long way to assisting the protection of some of our closest relatives.