One of the oldest rainforests in Africa, Nyungwe is rich in biodiversity and spectacularly beautiful. The mountainous region is teaming with wildlife, including a small population of chimpanzees as well as 12 other species of primate, including the L'Hoest's monkey endemic to the Albertine Rift.
With 15 trails, some of which are detailed here, along with various other activities, visitors can choose to sample the delights of the forest or indulge themselves for a week or more in one of Africa's most stunning forests.
Primate tracking tops most visitor's list, but it's worth lingering a little longer for those with time to relax and take in the primal atmosphere.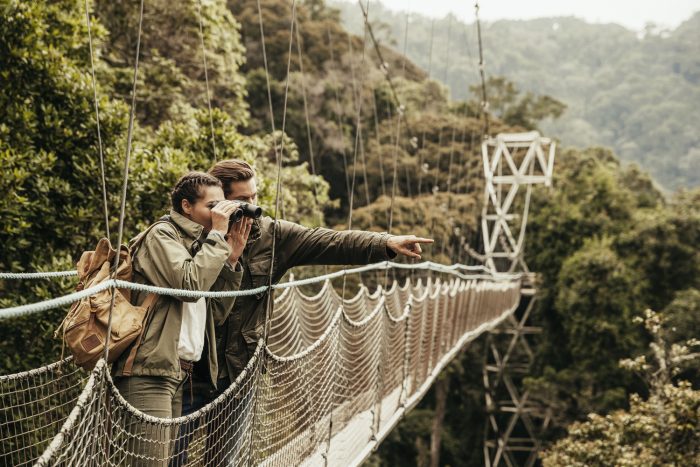 Botanists will marvel at the 1,068 plant species and 140 orchids. The birdwatching is among the best in Africa with 322 birds species including Red-collared Babbler and 29 other Albertine Rift Endemic species. Butterflies are also a common sight, with at least 120 species.
There are 75 known mammals in Nyungwe, such as the cerval cat, mongoose, congo clawless otter and leopard to name but a few. Many tend to be shy so sightings are luck of the draw.
Memorable and photogenic moments include walking up to the Isumo waterfall or along the Canopy Walk suspension bridge. Tea plantations border the edges of the park, with a habituated troop of Ruwenzori colobus monkeys at Gisakura as well as forest fringe birds.
With plenty of rainfall, Nyungwe is also the major catchment area in Rwanda, and supplies water to 70% of the country.
A ridge running through the forest forms a watershed between the drainage systems of the Nile and the Congo. A spring on the slopes of Mt Bigugu is said to be the most remote source of the Nile, the world's longest river.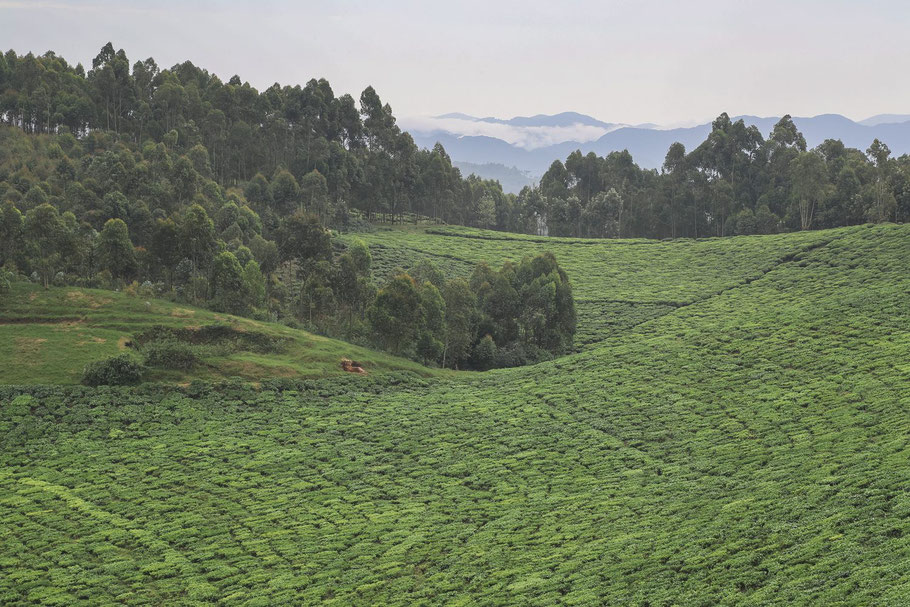 The home of roughly 400 species of chimpanzees, Nyungwe is home to one of East Africa's last intact populations and boasts two wild chimp communities that welcome guests (one in Cyamdungo and other around Uwinka). Thus, it's not surprising that chimpanzee tracking is a popular activity in Nyungwe (especially when the park's trees are in full bloom during the summer) as well-trained guides often lead visitors through the park's forests. And while actually viewing chimpanzees is not guaranteed, you'll enjoy learning about these creatures and their natural habitats from your guides. But you'll probably have to get up around four a.m. to succeed in this very challenging activity as chimps are mostly likely to be seen early in the morning. 
Chimpanzees are far from the only creature that will fascinate wildlife lovers in Nyungwe as with thirteen recorded species, the park is home to East Africa's most diverse primate population. Nyungwe is the only location in Africa where you'll find "supergroups" of more than 300 Colobus monkeys and one of the few places worldwide where you'll see L'Hoest's monkeys (primarily on the main round near Uwinka). Another rare animal you might also run into is the owl-faced monkey, an Albertine Rift endemic that inhabits Nyungwe's southern forests. In fact, most of the monkey species found in the park are endemic.
Described by Birdlife International as "the most important site for biodiversity conservation in Rwanda," the Nyungwe National Park is home to roughly 310 bird species, 27 of which are endemic to the Albertine Rift. Although actually spotting birds in the park's forests may be challenging, the bird songs you'll hear during the trek will surely make it more enjoyable. If you would like to learn about birds you might see and hear, book a guide for $50 U.S. at the headquarters of the Rwanda Development Board. The guides so knowledgeable about birdlife in Nyungwe they can identify birds by ear, such as the rwenzori turaco and grey-chested kakamega.        
Visitors to Nyungwe National Park can experience the rainforest from a new perspective: the Canopy Walkway. Hanging 60 meters above the forest floor between giant trees and towers, East Africa's only Canopy Walkway provides a stunning view of the park's amazing wildlife and nature. The Walkway is accessible as part of a specialized guided tour along the Igishigishigi trail or if you're not part of a tour, hiking the Imbaraga or Umuyove trails. 
Conducted year-round, the Canopy Walkway Tour costs $60 U.S. per person. All participants must be at least six years of age and children must be accompanied by adults. You should bring a raincoast as rain frequently falls in Nyungwe.  But if you don't come with a raincoat, you can rent one as well as walking boots and sticks.