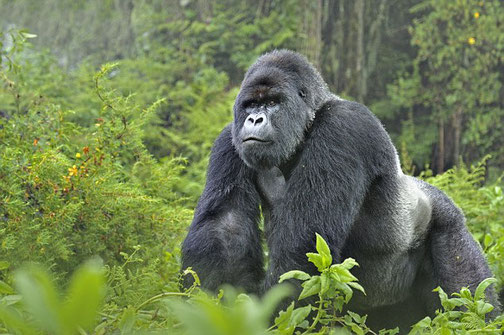 Bwindi Impenetrable National Park lies in southwestern Uganda on the edge of the Rift Valley. Its mist-covered hillsides are blanketed by one of Uganda's oldest and most biologically diverse rainforests, which dates back over 25,000 years and contains almost 400 species of plants. More famously, this "impenetrable forest" also protects an estimated 320 mountain gorillas – roughly half of the world's population, including several habituated groups, which can be tracked.
This biologically diverse region also provides shelter to a further 120 mammals, including several primate species such as baboons and chimpanzees, as well as elephants and antelopes. There are around 350 species of birds hosted in this forest, including 23 Albertine Rift endemics.
The neighboring towns of Buhoma and Nkuringo both have an impressive array of luxury lodges, rustic bandas and budget campsites, as well as restaurants, craft stalls and guiding services. Opportunities abound to discover the local Bakiga and Batwa Pygmy cultures through performances, workshops and village walks.
In 1932, two blocks of the Bwindi Impenetrable Forest were designated as Crown Forest Reserves. The northern block was designated as the "Kayonza Crown Forest Reserve", and the southern block designated as the "Kasatora Crown Forest Reserve". These reserves had a combined area of 207 square kilometers. In 1942, the two Crown Forest Reserves were combined and enlarged, and renamed the Impenetrable Central Crown Forest. This new protected area covered an area of 298 square kilometers and was under the joint control of the Ugandan government's game and forest departments. 
In 1964, the reserve was designated as an animal sanctuary in order to provide extra protection to its mountain gorillas and renamed the Impenetrable Central Forest Reserve. In 1966, two other forest reserves became part of the main reserve, increasing its area to almost 321 square kilometers. The park continued to be managed as both a game sanctuary and forest reserve. 
In 1991, Impenetrable Central Forest Reserve along with Mgahinga Gorilla Reserve and Rwenzori Mountains Reserve was designated as a national park and renamed Bwindi Impenetrable National Park. It covered an area of 330.8 square kilometers. The national park was declared in part to protect a range of species within it, most notably the mountain gorilla. Gorilla tracking became a tourist activity in April 1993, and the park became a popular tourist destination. In 1994, it was inscribed on the World Heritage List and a 10 square kilometer area was incorporated into the park. The park's management changed: Uganda National Parks, since renamed Uganda Wildlife Authority, became responsible for the park. In 2003 a piece of land next to the park with an area of 4.2 square kilometers was purchased and incorporated into the park.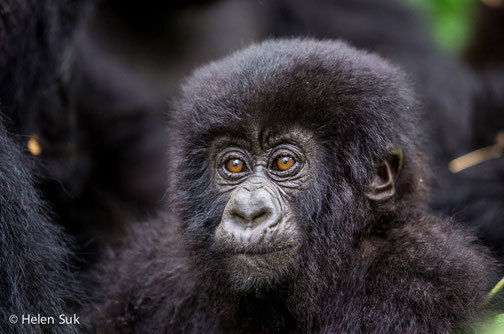 Bwindi Impenetrable National Park is located in southwestern Uganda covering an area of 331 square kilometers. The park is bordered by The Democratic Republic of Congo in the western side of the park; Kabale town to the southeast is the nearest main town to the park, 29 kilometres away by road. 
The park is located at the edge of the Western Rift Valley in the highest parts of the Kigezi Highlands, which were created by up-warping of the Western Rift Valley. The topography of the park is very rugged, with narrow valleys intersected by rivers and steep hills. Altitudes in the park range from 1,190 to 2,607 meters above sea level, with 60% of the park having an elevation of over 2,000 meters above sea level. The highest elevation in the park is Rwamunyonyi hill at the eastern edge of the park and the lowest part of the park is located at its most northern tip. 
Bwindi Impenetrable Forest has a tropical climate with the annual mean temperature ranging from a minimum of 7–15°C to a maximum of 20–27°C. Its annual rainfall ranges from 1,400 to 1,900 millimeters. Peak rainfall occurs from March to April and from September to November. The park's forest plays an important role in regulating the outside area's environment and climate.
The park is most recognized for the 340 Bwindi Mountain Gorillas, half of the world's population of the critically endangered Mountain Gorillas, although it is sanctuary for the chimpanzees, many birds and the colobus monkeys.
This afromontane forest is one of the richest ecosystems in Africa, and the diversity of species is an attribute of the park. The park provides habitat for some 120 species of mammals ten of which are primates and more than 45 small mammal species, 348 species of birds, 220 species of butterflies, 27 species of frogs, chameleons, geckos and many endangered species. In terms of fauna, the Bwindi area is amongst the most diverse forests in East Africa, with more than 1,000 flowering plant species including 163 species of trees and 104 species of ferns. The northern sector which has a lower altitude is rich in species of the Guineo-Congolian flora. These include two species internationally recognised as endangered that is; Brown mahogany (Lovoa swynnertonii) and Brazzeia longipedicellata. 
Bwindi Impenetrable Forest became a UNESCO World Heritage Site due to its ecological importance. The park has a large variation of altitude and habitat types, there by supporting a variety of species of trees, reptiles, butterflies, birds, moths, and small mammals.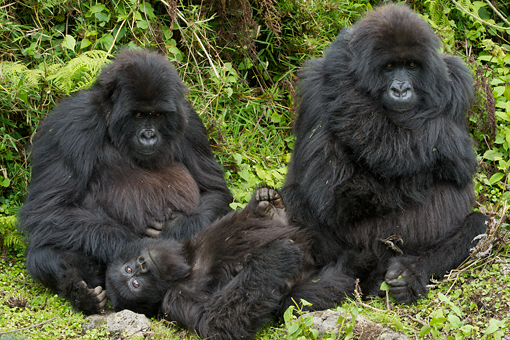 The park is inhabited by a population of about 340 individuals of Mountain Gorillas (Gorilla beringei beringei), commonly referred to as the Bwindi population, which makes up almost half of all the mountain gorillas remaining in the world. The rest of the worldwide mountain gorilla population is in the nearby Virunga Mountains which is shared by Rwanda, Uganda and Democratic Republic of Congo. The major threat to these mountain gorillas is poaching, habitat loss and disease, however, since 1997; there has been a gradual increase in the mountain gorilla population in Bwindi from 300 individuals to about 340 individuals in 2006.
Recent research has shown that the Bwindi gorilla's diet is patently higher in fruit than that of the Virunga population, and that the Bwindi gorillas, even silverbacks, are more likely to climb trees to feed on foliage, fruits, and epiphytes. In some months, Bwindi gorilla diet is very similar to that of Bwindi chimpanzees. It was also found that Bwindi gorillas travel further per day, particularly on days when feeding primarily on fruit than when they are feeding on fibrous foods. Additionally, Bwindi gorillas are much more likely to build their nests in trees, nearly always in, a small understory tree.
There are no mountain gorillas recorded in captivity explaining why they are indeed an endangered species with an estimated total population of about 650 individuals.
Managed by Uganda Wildlife Authority (UWA), replaced Uganda National Parks (UNP) that was the management authority of the park at the time of designation), Bwindi is protected under the provisions of various national laws (The Constitution (1995), Uganda Wildlife Act Cap 200 of 2000, National Environment Act (2000), Local Government Act (1997), The Land Act (1998), the Forest and Tree Planting Act 2003 and the Uganda Wildlife Policy (1999). All these laws mentioned above were not in place by the time the property was inscribed as a World Heritage Site. However, the Uganda National Parks Act (1952), and the Game Act were already in place to support its creation) and international conventions (Convention of Biological Diversity 1992 (CBD), Convention on International Trade in Endangered Species (CITES), the Ramsar convention 1971 and the World Heritage Convention 1972). The park has an approved management plan and is highly respected and supported by local communities as a conservation site. The park attracts substantial support from a number of local and international NGOs. The Park has a permanent research institute located within the site which is engaged in research and continued monitoring of the site's integrity. These factors as well as strong political support provide an assurance for the park's long-term protection and conservation. The management of the park has developed ecotourism programmes that support community livelihoods, a major reason for community support. The Park is a model for integration of community sustainable resource management in the country and possibly in the East African Region. However, there are still strong long-term needs for greater primate protection given the new tendency of trafficking mountain gorilla babies and chimpanzees. As the mountain gorilla is so closely related to people, it is also threatened by transmission of human diseases as a result of tourism activities. UWA is closely monitoring these threats and working with stakeholders and NGOs to mitigate these threats. Continued enhancement of conservation is required in law enforcement and monitoring.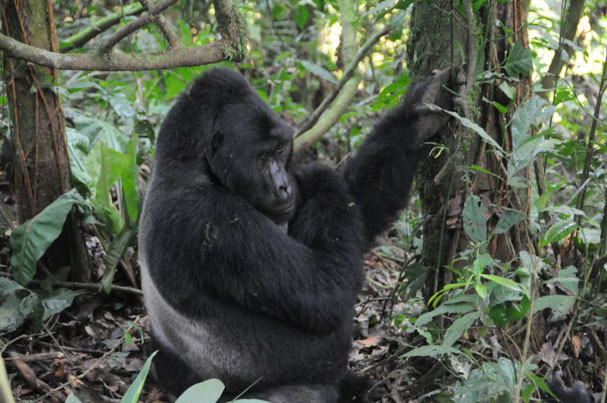 Tourists can visit the park any time throughout the year, although conditions in the park are more difficult during the rainy season. Available tourist accommodation includes lodges notably Lake Mutanda Chameleon Hill Lodge, Clouds Mountain Gorilla Lodge, Gorilla Safari Lodge, all these serve the southern Bwindi with several habituated Gorilla groups, On the side of Ruhija, Gorilla Mist Canmp and Ruhija Gorilla Lodge stand out and on the side of Buhoma Northern side we have Gorilla Forest Camp, Buhoma Lodge, Volcanoes Bwindi Lodge, Engagi Lodge, Gorilla Resort, Mahogany springs, Silver Back lodge and many other budget options. The park is in a remote location, and reaching the park involves a long difficult journey. Roads are in a bad condition. But if driving to the southern Bwindi, the Road from Kampala to Kisoro is all paved and first class. The bad section of the road is only about 35 Kms to the forest. 
Gorilla Tracking is the park's main tourist attraction. Tourists wishing to track gorillas must first obtain a permit to do so. Seek advice from your local Uganda safari operator on selection of the gorilla permits based on which section of Bwindi you would be visiting. Otherwise gorilla permits are purchased at Uganda Wildlife Authority. Selected gorillas families have been habituated to human presence and the number of visitors is tightly controlled to prevent degradation of the habitat and risks to the gorillas. Gorilla Tracking Safaris generate much revenue for Uganda Wildlife Authority and neighboring communities which is crucial for gorilla conservation. The gorillas seldom react to tourists. There are strict rules for tourists to minimize the risk of diseases passing from them to the gorillas.
 

Bwindi Impenetrable National Park profile

 on UNESCO's World Heritage website

Bwindi Impenetrable National Park

, UNESCO World Heritage Site listing

 

a

 

b

 

c

 

d

 

e

 

f

 

g

 

h

 

i

 

j

 

k

 

l

 

m

 

n

 

o

 

p

 

q

 

r

 

s

 

t

 

"Bwindi Impenetrable National Park, Uganda"

. Protected Areas and World Heritage. United Nations Environment Programme, World Conservation Monitoring Centre. September 2003. Archived from 

the original

 on 2008-05-10. Retrieved2008-07-08.[

dead link

]

 

a

 

b

 

c

 

"Mountain Gorilla Population Rebounds in Uganda"

. LiveScience.com. Archived from 

the original

on July 4, 2008. Retrieved 2007-05-03.

Uganda Wildlife Authority leaflet, May 2008.

 

a

 

b

 

c

 

d

 

e

 

f

 

g

 

h

 

i

 

j

 

k

 

l

 

m

 

n

 

o

 Korbee, Dorien (March 2007).

"Environmental Security in Bwindi: A focus on farmers"

(PDF). Institute for Environmental Security. Retrieved2008-07-08.

 

a

 

b

 

c

 

d

 

e

 

f

 

g

 

h

 

i

 

j

 

k

 

l

 

m

 Namara, Agrippinah (June 2006). "From Paternalism to Real Partnership with Local Communities? Experiences from Bwindi Impenetrable National Park (Uganda)". Africa Development. XXXI (2).

 

a

 

b

 

c

 

d

 

e

 

f

 

g

 

h

 

i

 Blomley, Tom (2003). 

"Natural resource conflict management: the case of Bwindi Impenetrable and Mgahinga Gorilla National Parks, southwestern Uganda"

(PDF). In Peter A. Castro, Erik Nielsen. Natural resource conflict management case studies: an analysis of power, participation and protected areas. Rome: Food and Agriculture Organization of the United Nations.

Adams, William Mark (2001). 

Green Development: Environment and Sustainability in the Third World

. Routledge. p. 266. 

ISBN

 

0-415-14765-4

.

"A brief history of IGCP"

. 

International Gorilla Conservation Programme

. Archived from 

the original

 on 20 February 2008. Retrieved 2008-07-08.

 

"Uganda tourists 'butchered'"

. BBC. 3 March 1999. Retrieved 27 October 2011.

 

"Court finds Rwandan guilty of murdering tourists 7 years ago"

. IRIN. UN Office for the Coordination of Humanitarian Affairs. 2006-01-09. Retrieved 30 July 2008.
 Lanjouw, Annette (2001). 

"Beyond Boundaries: Transboundary Natural Resource Management for Mountain Gorillas in the Virunga-Bwindi Region"

. Biodiversity Support Program, World Wildlife Fund. Retrieved 2008-07-08.

 

a

 

b

 

c

 Gurrieri, Joe; Jason Gritzner; Mike Chaveas.

"Virunga – Bwindi Region: Republic of Rwanda, Republic of Uganda, Democratic Republic of Congo"

 (PDF). United States Department of Agriculture. p. 18. Retrieved2008-07-08.

 

a

 

b

 

c

 

d

 

e

 Eilu, Gerald; Joseph Obua (2005). "Tree condition and natural regeneration in disturbed sites of Bwindi Impenetrable Forest National Park, southwestern Uganda". Tropical Ecology. 46 (1): 99–111.

Gurrieri, Joe; Mike Chaveas; Jason Gritzner (2005).Virunga – Bwindi Region: Republic of Rwanda, Republic of Uganda, Democratic Republic of Congo. USDA Forest Service. p. 9.

 

a

 

b

 

c

 IUCN/WCMC (1994). 

World Heritage Nomination - IUCN Summary Bwindi Impenetrable National Park (Uganda)

 (PDF). p. 51.

 

a

 

b

 

c

 Hodd, Michael (2002). 

East Africa Handbook: The Travel Guide

. Footprint Travel Guides. 

ISBN

 

1-900949-65-2

.

"Bwindi Impenetrable National Park"

. National Parks and Safaris. Uganda Tourist Board. Archived from 

the original

 on 2008-06-05. Retrieved 2008-07-08.

 

a

 

b

 

c

 

"About IGCP"

. International Gorilla Conservation Programme. Archived from 

the original

 on 2008-01-17. Retrieved 2008-07-08.

AFRICA: Land rights and pygmy survival

, IRIN Africa, UN Office for the Coordination of Humanitarian Affairs.[

dead link

]

 

a

 

b

 

c

 

"Bwindi Impenetrable National Park"

. Uganda Wildlife Authority. Retrieved 2008-07-08.